Taylor to contest Brown in Jesmond
Councillor Wendy Taylor has been selected as the new Lib Dem parliamentary candidate for Newcastle East, which will include Jesmond.
A councillor for the local Dene ward since 1988, Taylor will stand against government chief whip Nick Brown at the upcoming election.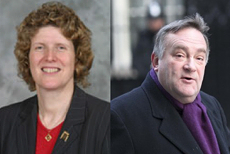 Taylor emerged as a favourite to take on the role following the resignation of previous Lib Dem candidate Greg Stone after it emerged that he was the author of offensive comments on an online political blog.
A consultant in clinical oncology at Newcastle General Hospital, Taylor has been an executive member of Newcastle City Council since 1994 and currently holds the portfolio for environment, sustainability and transport.
Speaking after her selection, Taylor said: "It is a great privilege to have been selected as the Liberal Democrat parliamentary candidate for Newcastle East.
"As a local councillor, I know the area very well and I am really passionate about offering local people a credible political alternative to Labour's record of failure in the North East."