Comic heroes visit Jesmond – kapow!
It may have been a dim, drizzly Saturday morning in Jesmond – but that didn't stop a team of nimble ninjas, karate cats, mad scientists and schizophrenic flowers from having fun as Jesmond Library played host to a "Quick Comics Workshop".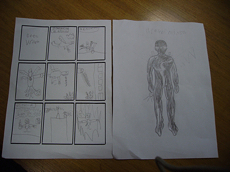 Part of the Jesmond Community Festival, the session was taken by local comic book artist Jack Fallows and writer Daniel Clifford. There were two classes on offer – a morning session for 7-11 year olds and an afternoon session for 12-18 year olds – both promising to offer "a wild ride through comic book creation".
The morning session was full of young avid comic-book fans, eager to start their creations as well as to voice their Beano and Marvel knowledge (proving that the old school comics haven't lost their charm).
Batman reigned supreme as one of the most popular comic hero's amongst the team. As one of the children explained: "He's one of the only superheros without superpowers…and he has a cool car."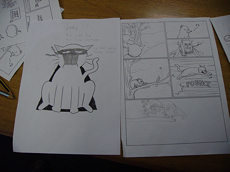 I'm a bit of an amateur when it comes to this sort of thing, but luckily the children were at hand to offer their expertise, offering tales of Spiderman ("who is very agile"), Wolverine ("who has metal bones"), and Iron Man (FYI his suit is not made out of iron).
When it came to designing their own characters, "bad guys" were a popular choice of the morning's mayhem, after the first up to discuss his creation announced, "Mine's from the dark side of the force." The majority view was that "bad guys are more fun".
On to some of the creations of the day:
> Cannon the Cat – an evil creature you wouldn't want to mess with (he's wanted for murder).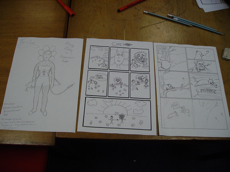 > Toffee the Cat – a more wholesome, friendly feline.
> Crazy Karate Cat – has a black belt and comes armed "with a large stick he found in the garden"…however he spends most of his days "just sitting".
> Paul the Cat – Paul is in a band with several dogs, currently working on a cover of 'Twist and Shout". Paul plays guitar.
> Evil Jerry – a cat who also happens to be a karate criminal. Nothing or no one gets in the way of Jerry, if it does "he simply kung-fu kicks them out of the way".
> A soldier from WWII called Bob – like Batman, doesn't have superpowers but has saved many lives…he is also partial to cheese.
> Soap the Scientist – eccentric chap who falls into the good camp, but carries a sword – so not one to mess with.
> USA Man – his weakness is water. Like all the greats of the comic hero hall of fame (Peter Parker, Clark Kent…), USA Man is the secret identity of a regular boy next door – when he's not saving the world he can be found tending to his day job in a post office.
> USA Man also has an arch-enemy who goes by the name of Jaws – after running through a science lab and into the path of a machine that makes sharks more intelligent, USA Man's nemesis is transformed into a half man/half shark creature. (Note to kids… don't run in the science lab.) Soap the Scientist's creator would not confirm whether or not this accident took place in his laboratory.
> Ninja – an average karate teacher, but by night takes his role as ninja very seriously. Think Mr. Miyagi vs Hattori Hanzo.
> Dragon Ninja – ninja by day, dragon by night (simply because "he just feels like it"). Fights demons.
> Feisty Flora vs Fluorescent Flora – (creation of the more mature members of the class) a gentle soul but step on her tail and Feisty Flora will rear her ugly head and banish you to life…as a flower. There are worse things…
To learn more about these comic book workshops, email jackanddanielscomicbookworkshop@hotmail.co.uk