Pushy Mothers help new mums back into shape
New mothers are getting back into shape through weekly "buggy workout" classes in Jesmond this spring.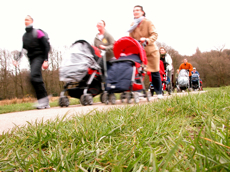 Run by fitness expert and mother Debbie Donaldson, the Pushy Mothers classes aim to help mothers regain their fitness after childbirth in a safe and controlled environment.
With representatives across the country, Pushy Mothers has become one of the country's leading pregnancy and postnatal fitness brands, offering advice and a range of professional exercise regimes tailored to those difficult months following childbirth.
Each Tuesday the mothers gather in Jesmond Dene to take part in the one-hour buggy workout. Led by Donaldson, the workout is a guided power-walk around the Dene, and incorporates specific exercises tailored to each mother's postnatal fitness needs.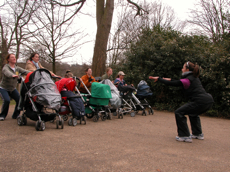 The classes suffered over the winter months due to an unusually harsh winter, making pavements and walkways inaccessible and dangerous for the mothers and their buggies. However, now the ice has thawed and spring has arrived in the Dene, the classes push on, with more mothers signing up on a weekly-basis to join the "Pushy Army".
With the emphasis on safe and controlled regaining of physical fitness rather than on quickly shedding the pregnancy pounds, Pushy Mothers aims to combat the celebrity postnatal starvation trend.
"The classes provide a safe environment where mothers can meet, exercise together, and discuss their problems and experiences, without feeling the pressure to attempt to lose their pregnancy weight in a set amount of time," explains Donaldson. "The classes don't focus on weight loss goals, but on general wellbeing, rebuilding muscle and improving physical strength."
The classes attract women of all ages and professional standing, removing the need for expensive childcare, or relying on grandparents and partners while attending the gym, as the nature of the workout enables mums to keep their child with them while they exercise.
"We believe that having a child shouldn't stop you being able to exercise," says Donaldson. "Motherhood is a very important part of life, and the classes allow mothers to spend fun quality time outside with their children, embracing their motherhood."
The outdoor classes can also help counter postnatal depression, along with the fresh air, good company and exercise. "The classes are a great way to meet new mums, share experiences and get fit together," says Donaldson.  "This class worked for me, I know it can work and be enjoyable for others.
"The children really seem to enjoy the classes too. They love the fresh air and watching their mums exercise. They find it funny to see their mothers bobbing up and down in funny positions – they see their mums enjoying themselves and it makes them smile."
The Buggy Workout classes take place every Tuesday in Jesmond Dene at 9.40am. The Pushy Mothers meet at Cafe Antipasto, 217 Jesmond Road – however places are limited, so Donaldson asks mums to reserve places on the class in advance to avoid disappointment.
To find out more about the classes call Donaldson on 07846 237 855, or visit here.