Lord mayor launches biggest Jesmond festival yet
Jesmond Community Festival was officially launched today by the Lord Mayor of Newcastle, Michael Cookson who praised the enthusiasm of the festival's volunteer organisers and urged other communities around the city to follow suit.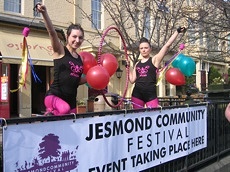 Now in its sixth year, the festival has grown substantially and over the next two and a half weeks will feature almost 60 events at some 24 different venues around Jesmond. Today's launch, at the New Northumbria Hotel on Osborne Road, was also attended by several Jesmond councillors, town crier Marjorie Dodds, Peruvian band Apu and poi performers Ellouise Hempstead and Maya Esposito of Etrois (pictured).
The first event of this year's festival is Saturday's Grand Parade which begins on the green outside St George's Church at 11am. For full details of the festival programme, click here.