Mud, glorious mud
A hardy band of diggers has been out planting more fruit at Jesmond Community Orchard. Now there's a fine row of raspberries as well as some red and blackcurrants, gooseberries and a blackberry. Pride of place has gone to a sweet almond tree, which will produce beautiful pink flowers in another month or so and may even bear some nuts.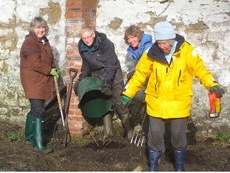 More craft activities are afoot for the Family Activity Afternoon on Sunday 14th March, including colouring for younger children and a chance to build a scarecrow. You can bring along some unwanted clothes to adorn the scarecrow.  There will also be bird-box-making and wildflower seeds to plant in pots and transplant later in the year.  The event will run from 2pm until 4pm at the orchard which is located in the north west corner of St Andrew's Cemetery. (An alternative venue is available in case of bad weather.)
You can also visit the Orchard stall in West Jesmond School yard on Saturday 13th March, after the Jesmond Festival parade for more information.
Some volunteers from Northumbrian Water are coming to help prepare the ground for grass-seeding in April.  They might even provide a water butt or two for times when the rain is less plentiful.  If the recent bad weather continues it might be more prudent to start a water garden.
Check up on the orchard at www.jesmondcommunityorchard.kk5.org