West Side Story set for Jesmond?
Discussions are ongoing, but the word on Eskdale Terrace is that West Side Story could be next year's big musical production at the Royal Grammar School.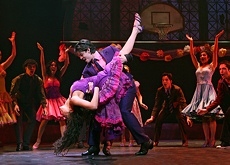 RGS students wowed audiences just a few weeks ago with spectacular performances of Jesus Christ Superstar and headmaster Bernard Trafford says that ambitious production set new standards in bringing the masterpiece of Tim Rice and Andrew Lloyd Webber to a school stage. Plasma screens were used to relay the conductor's instructions to singers and dancers from a 22-piece orchestra pit hidden underneath the set. Lavish scenery and costumes combined with music, singing, acting and technical skills to create a memorable event, says Trafford, who described the production as " a 'wow' that will be remembered for a long time, and an experience for those involved".
While a final decision is being made, the focus on theatre continues. Last week the modern languages department put on its biannual play. Georges Perec's production saw students perform entirely in French. The RGS also plans to contribute to the Collingwood 2010 Festival later this year.