JesmondLocal at South Jesmond ward meeting
If you couldn't make it to last night's South Jesmond ward committee meeting at the Civic Centre, JesmondLocal was there to take notes on your behalf and live-blog the highlights.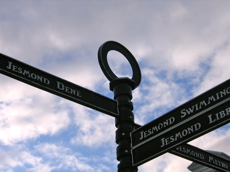 Thes packed agenda included news about the forthcoming Jesmond Community Festival, and reports on the Chelmsford Grove play park, Northumberland Road pedestrianisation plans and Nexus bus route consultations.
6.35pm Live blogging begins… on iPhone because public wifi not available at Civic Centre.
6.39pm Discussion of Chelmsford Grove play park. Not being used by many children. Is it because it's not signposted? Should it be converted to allotments? Or a community garden? Decided it needs more discussion.
6.51pm Chris Clarke gives update on Jesmond Community Festival. The festival is growing. 58 events this year. Has now reached something of a critical mass. 24 venues this year compared to 14 last year. In South Jesmond there are three free concerts at Holy Trinity Church and a Harry Potter magic show at St Catherine's. Two brass band concerts at the RGS. Young bands night at Northumbria University students union. And an open day at the cricket club.
Festival parade on Saturday – responsibility for managing public events has been transferred from police to council. Jesmond festival is first street festival to be subject to new rules. Extra costs have come close to £1,000. Organisers have applied for funding from North and South Jesmond wards. £400 already committed by North Jesmond. And £400 agreed tonight by South Jesmond.
7.14pm One resident raises a concern that the police drop-in sessions only take place in North Jesmond. A representative from Northumbria Police is absent from tonight's meeting.
7.20pm Some residents have noticed an increase in alcohol-related refuse on Jesmond's streets.
7.23pm Older Persons Engagement Report. The initiative aims to encourage a better quality of life for older residents in the area, which the council suggests are aged 50-plus. The projects include "guerilla gardening" by student volunteers as well as a project designed for older people to commit their memories to DVD and an audit of ward changes older people would like to see.
7.32 Following a discussion regarding late-night disturbances by students outside Mistletoe Bakery, one resident suggests that "militant students" have declared war on local residents on Larkspur Terrace, forcing some families to move out.
7.37pm A lengthy discussion begins about the pedestrianisation of Northumberland Road. Residents still opposed to proposals but worry they are being "stampeded" into accepting. Some say there has been little or no consultation by Northumbria University.
7.47pm Council are yet to decide on action to be taken to repair potholes on Fern Avenue – may not happen until next financial year. Other concerns are raised regarding damage to the pedestrian walkway at the junction of Clayton Road and Great North Road following reports that cars have been parking on the grass verge.
7.51 One resident says it's nice to see cows on the Town Moor.
7.58 Cycleway at Holly Avenue, which turns onto Osborne Road, is dangerous for cyclists heading into town, says one resident. The suggestion is that motorists on Osborne Road are driving too fast. The council has rejected the provision of a safer cycle way because it would mean removing permit parking spaces.
8.03pm Nexus is hosting a consultation meeting regarding the 33 bus and others on March 25th at the Civic Centre. One resident says he would like to see hopper style buses introduced to Jesmond but understands that accessability is the issue preventing it.
8.05pm Meeting closes. Next meeting May 11th.
JesmondLocal believes this to be a fair and true account of this evening's discussions, but is happy to amend where necessary and appropriate.