Northumberland Club 'dominant'
As the squash season approaches its final few weeks, the Northumberland Club's mens and ladies teams remain on course for an impressive hat-trick of titles in the Northumbria Squash Leagues.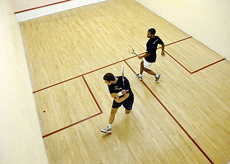 Having been in the chasing pack in the Premier Division for most of the season, the men's first team seems to be peaking at just the right time in a tightly-contested league. Earlier this month the team leap-frogged title challengers Northern after a home win against the Northumberland Blues, and sat two points clear at the top of the league.
Meanwhile, the men's second team and ladies first team have enjoyed far more comfortable campaigns. Jim Douglas, general manager of the Northumberland Club, said: "The men's second team lead the division title race by 17 points and look set for promotion. And the ladies' first team have dominated the Premier Division all season and look well-placed to regain the title."
The ladies' first team have been in imperious form all season – they are a massive 53 points clear at the top of the table. Three league titles would crown Jesmond's Northumberland Club as indisputably the strongest club in the region.