Local election countdown
It can't have escaped anyone's notice that there is the small matter of a general election approaching which, if rumours are to be believed, will take place in May.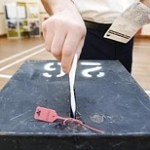 But local government elections are also due to take place, on Thursday 6th May. Voting for your MP is important, but at the grassroots level your choice of local councillors is also vital. National policies set at a central government level may take years to embed locally… and even longer for you to notice any change. Local politicians, on the other hand, have the mandate to micro-manage your area. Their policies, decisions and actions can make an immediate impact to your neighbourhood and day-to-day life.
There are 26 council wards in Newcastle, each represented by three councillors. Elections in Newcastle are "by thirds"  – a third of councillors stand every year for three years, with one "fallow" year, and are traditionally held on the first Thursday in May. Councillors are elected for a four-year term and one councillor per ward retires each year; there are no elections in the fourth year.
Jesmond is divided into two wards, North and South Jesmond. Both wards are currently in the hands of the Liberal Democrat party. The North Jesmond ward is represented by councillors Ron Armstrong, Peter Breakey and Catherine Pagan. In the South Jesmond ward, the current councillors are Chris Boyle, Bob Walker and Tom Woodwark.  The last local elections were held in 2008, when the Liberal Democrats claimed more than 50% of the vote in both wards.
Election results,  2008
—————-South Jesmond                North Jesmond
Votes
Lib Dem          946 (54.7%)                        1,957 (54.2%)
Labour             354 (20.5%)                         883 (26%)
Conservative   430 (24.9%)                        711 (19.8%)
Once the notice of election has been published  on Monday 29th March, the local council and councillors enter a period called "purdah" which runs until polling day. During this time no proactive publicity of candidates and other politicians involved directly with the election can be undertaken by Newcastle City Council. Any events the local authority delivers during this period must not involve members likely to stand in the election.
We'll publish soon a list of the candidates standing in the forthcoming elections. In the meantime here is a timeline of events leading up to the  6th May vote.
Publish notice of election                                           29th March 2009
Last day for receipt of nominations                          8th April 2010
Publish statement of person nominated                 12th April 2010
Publication of agents notice                                       13th April 2010
Last date for withdrawals                                            13th April 2010 (Noon)
Last day for appointment of election agents           13th April 2010 (Noon)
Last day for new postal votes and changes to
existing postal votes                                                       20th April 2010 (5pm)
Publication of notice of poll                                          27th April 2010
Last day for new proxy applications                           27th April 2010 (5pm)
Last day for appointment of counting and
polling agents                                                                     28th April 2010
First day for requests for replacement of
lost or spoilt ballot papers                                                29th April 2010
Polling day                                                       6th May 2010 (7am to 10pm)
Last time to issue replacements for lost and
spoilt ballot papers                                                            6th May 2010 (5pm)