Calling all over 50s in Jesmond
Residents over the age of 50 from both North and South Jesmond wards are invited to attend a meeting on Tuesday 20th April at 10.30am at St Hildas Church on Thornleigh Road.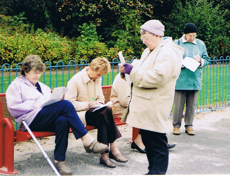 This is the third meeting that has been held for Jesmond residents in this age group. The meetings are organised jointly by Newcastle City Council and the Quality of Life Partnership. At the meeting residents will have the opportunity to find out how current projects aimed at making Jesmond a more older person friendly place to live are progressing. There will also be an opportunity for residents to comment on the Nexus future bus route proposals and to find out how you can stay safe with Safetyworks.
If you want to find out more, or you require transport to attend please contact Amy Redpath, North and South Jesmond Ward Coordinator on 0191 277 3635 or email amy.redpath@newcastle.gov.uk