St George's vicar to run Brighton marathon
He usually has other commitments on a Sunday, but tomorrow the vicar of St.George's Church in Jesmond, Nick Chamberlain, will be running the first ever Brighton Marathon.
The race will take Chamberlain and 5,000 other runners through the streets of Brighton, along the South Downs, and on to the sea front, ending at the pier.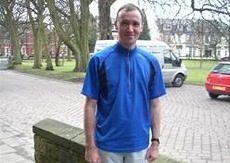 The vicar has been in training since the autumn, when he ran the Great North Run, but was challenged to enter the marathon by his brother, who lives in Brighton. "Training was very hard over the winter, especially because of the heavy snow and poor weather," he recalls. "I've managed a number of long runs, but not as many as I would have liked to have done. Shorter runs have been easier, but I've been doing long runs on Saturday or Sunday afternoons, after morning services. I'm also very grateful to have been able to make use of facilities at Jesmond Pool, including the fitness suite where staff have been very kind and supportive."
Chamberlain, 46,  says he hopes to "get to the end in one piece" and "if I did it in five hours I'd be overjoyed". "My only fear is that my left knee will give out round about the 20 mile mark. So far I haven't managed to run more than about 21 miles in training."
By completing the marathon, the vicar is hoping to raise £5,000 for St.George's Church and for the Friends of
St.George's Church. So far, £3,400 has been pledged and money will go to fund several projects.
It will be used to support a young person to live in Jesmond for a year, to contribute to the church and community, and to work with young people. "We've so far managed to have three people on placement – the third, Roz Forbes, is currently living with us before, possibly, starting to train as a vicar."
Secondly, money will be used to improve the facilities that the church offers to the community, including the church hall, which hosts lots of local events, including the Fairtrade Tea Room on Fridays.
And thirdly, funds raised by Chamberlain will go towards restoring the church's huge and unique West Window. Work is due to begin on this in the summer – at a cost approaching £50,000. "St George's is a unique Grade One listed building," says Chamberlain. "We maintain the church, hall and green for use by the people of Jesmond and the City of Newcastle. This year we face a funding shortfall of about £17,000 – hence the need to raise money and attempt the marathon."
Chamberlain says he is hugely grateful for the support that he has been offered already in the form of prayer, encouragement and money. Many people offered to sponsor him during the Jesmond Festival Parade which ended at
West Jesmond Primary School where had and his supporters were handing out "Going the last mile for St.George's" balloons. Jesmond locals may also have seen him running through the streets as he has been training.
"It's a fantastic church in a wonderful community and I'm very pleased to do all that I can to serve it," he says.
You can pledge support for the vicar by clicking on this link.