Jesmond gets its own history book
Viz founder Chris Donald, who used to live in Jesmond, has written the introduction to a book on the area by City Guide Alan Morgan. The book, Jesmond: from mines to mansions, will be published next month by Tyne Bridge Publishing, part of Newcastle Libraries.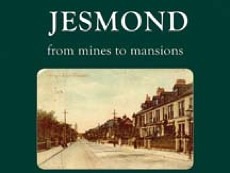 Here's what the publisher has to say about the book:
"By Victorian times Jesmond, one of Newcastle's leafiest suburbs, had a growing population of grand industrialists with grand houses. They would be followed by an army of artisans and workers, their houses and Tyneside flats, but traces of the ancient field system can still be seen in the patterns of railway, and roads. City Guide Alan Morgan explores the history of this fascinating suburb through archive photos and maps. This book also celebrates the memory of greatly-loved Jesmond expert Jimmy Donald and is affectionately introduced by his son, Chris Donald."
On Friday 28th May, author Alan Morgan will be talking about his book at City Library. The talk is free of charge, but booking is essential. Phone 0191 2774100 or email information@newcastle.gov.uk to book a place.
You can pre-order the book from Amazon here.