Stewart & Co. seeks your vote
Stewart & Co. is hoping for a gong in this year's Observer Food Monthly Awards. The Brentwood Avenue store is in the running for "Best Independent Local Shop". Stewart & Co.'s café inside Newcastle's City Library has also been entered in the "Best Budget Eat Under £20 Per Head" category. If you'd like cast your vote in support, click here.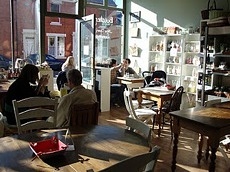 Stewart & Co. makes an appearance too in The Good Food Producers Guide 2010 by Rose Prince, which is published by Hardie Grant Books. For a taste of the book's contents, read here.