Jesmond is served another coffee shop
Another coffee house has opened its doors in Jesmond, this time on the corner of Osborne and Acorn Road. With a chic design, champion baristas and its own roast of coffee, Central Bean claims to have a unique approach that sets it apart from the big high street chains.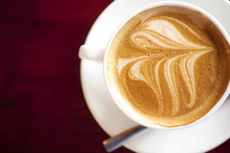 "We use a medium roast coffee, which has a sweeter and more complex taste than dark roasts, which the big chains use," says David King, a lifelong Jesmondite who co-founded the business.
Central Bean uses three types of coffee bean – from Indonesia, Mexico and Brazil – which it also sells in-store.
Before launching the flagship store on Gallowgate, King hired international coffee judge and consultant Andrew Hetzel to help Central Bean find its flavour. Hetzel in turn took King on a trip to Seattle, USA – the home of a thriving coffee house culture and the birthplace of Starbucks.
"I never realised how good coffee could be," says King. "We saw how independent coffee houses took on the big boys, using unique approaches and harvesting beans with different characters from all over the world."
The shop is manned by a team of skilled baristas – Italian for bartenders who serve espresso-based drinks – who add a creative touch to the coffee, such as the latte art pictured here. They compete with each other, and staff from other independent coffee houses in Newcastle, in regular "barista throwdowns". And there's a former barista champion in the ranks: an Aussie called Alex Forsyth.
The Jesmond shop is the third branch of Central Bean to open in and around Newcastle, with the others on Gallowgate in the city centre and Sanderson Arcade in Morpeth. King says he hopes to have six shops in operation by the end of the year.
Central Bean is part of the Fluid Group, a chain of venues including Bar Luga and Perdu, which King runs with his business partner, Oliver Vaulkhard of Gosforth.
The Jesmond shop was previously occupied for 25 years by Fleurtatious, a florist which now operates online.
Local caffeine addicts will welcome another venue to get their coffee fix. But what do you think? Did Jesmond need another coffee bar? What's your favourite place in Jesmond for a latte or Americano? Tell us below.