Vicar finishes marathon ahead of schedule
The vicar of St.George's Church in Jesmond, Nick Chamberlain, successfully completed the first ever Brighton Marathon on Sunday.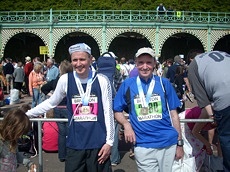 The race took Chamberlain (pictured, right), his brother Tim (left) – who is a teacher in Brighton – and 5,000 other runners through the streets of Brighton, along the South Downs, and on to the sea front, ending at the pier. Chamberlain and his brother finished the course side by side in 4 hours 30 minutes – well within the five-hour target they had set themselves. "Bright sunshine, fantastic crowds, a real event to remember," says Chamberlain. "Legs very tired and knee aching, but no complaints at all."
The vicar wants to say a "big thank you" to everyone who has offered him support. "To Bryan Vernon, who took the Sunday morning services at St.George's and who kept asking people to remember me, to the whole congregation and to the residents of Jesmond," says Chamberlain.
The vicar ran the marathon with the aim of raising £5,000 for St.George's Church and for the Friends of St.George's Church. "We're fast approaching our £5,000 target, but any donations are still welcome," he says.