Squash triumphs for Jesmond juniors
The Northumberland Club's juniors bagged a hat-trick of titles on their home courts at the Junior Open Squash Championships.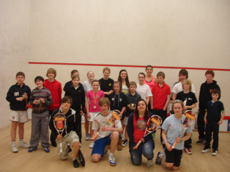 Almost 100 junior players competed for 12 titles over the Easter weekend at the Northumberland Club, with tournaments for under-13s, under-15s and under-17s in the boys and girls categories, and a mixed tournament for under-11s.
Some players travelled from as far as Cumbria and Yorkshire for the bronze ranking end-of-season finale, but it was the home players who enjoyed the most success.
Northumbria bagged an under-17 double, with excellent performances from Harry Carr and Lucy Beecroft securing both the boys and girls titles in the top age group.
Emma Haley made it a hat-trick of titles for the club by picking up the girls under-15 title.
The match of the tournament was between two Northumbria players, as Samantha Ward and Lucy Beecroft fought for the girls under-17 title. Ward took early control and comfortably won the first game but Beecroft rallied, winning the next three games to take victory.
"It was always close," said the Northumberland Club's general manager Jim Douglas. "The standard of squash from both players was excellent and the big crowd certainly enjoyed the quality of the match."
The championships were sponsored by Head, and the winners and runners-up took home Head racquets and sports bags as prizes.
Full results:
Mixed U11 – Winner: Ross Singleton (Cumbria)
Runner-up: Lewis Follin (Northumbria)
Boys u13 – Winner: Joe Dale (D&C)
Runner-up: Alex Robertson (Northumbria)
Boys u15 –  Winner: Luke Mabbott (D&C)
Runner-up: Jack Cooper (Yorkshire)
Boys u17 – Winner: Harry Carr (Northumbria)
Runner-up: Ian Hogg (Yorkshirre)
Girls u13 – Winner: Ellen Cooper (Yorkshire)
Runner-up: Zoe Kaiser (Yorkshire)
Girls u15 – Winner: Emma Haley (Northumbria)
Runner-up: Meg Singleton (Cumbria)
Girls u17 – Winner: Lucy Beecroft (Northumbria)
Runner-up: Samantha Ward (Northumbria)
The plate finals were also well contested:
Boys u13 Plate – Winner: Haydn Maclean (D&C)
Runner-up: Oliver Walls (D&C)
Boys u15 Plate – Winner Andrew Walsh (Northumbria)
Runner-up: Tom Howell (Yorkshire)
Boys u17 Plate – Winner: Barney Wareing: (Northumbria)
Runner-up: John Thompson (Northumbria)
Girls u13 Plate – Winner: Fayre Groom (Northumbria)
Runner-up: Katie Twentyman (Cumbria)
Girls u17 Plate – Winner: Libi Beecroft (Yorkshire)
Runner-up: Sophie Noble (Northumbria)