Church High wins enterprise competition
Church High's BrightLife Books company has been judged overall winner in a Young Enterprise north east regional final. The company, led by Francesca Thornton and Lucy Topham in the school's Lower Sixth, has previously won a sales and marketing award at a trade fair at the MetroCentre earlier this year.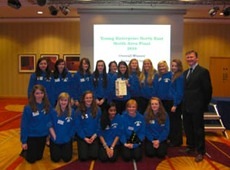 BrightLife Books was set up by a group of 21 students with the aim of educating children on lifestyle issues. Joint managing director Fran Thornton says: "Our sole intention is to produce a good quality product which encourages children to 'Live the right life, Live the BrightLife' and instils the importance of making small changes in their lives. After much debate and discussion, this was achieved via 'Sunny the Sunflower' and 'Ronny the Runner Bean' – our colourful, appealing, educational books for children, illustrated and written by members of our team."
The final attracted companies from across the north east. Each company had had to submit a business report detailing its business year prior to the contest and this had to meet stringent judging criteria.
The contest itself took place at the Gosforth Park Marriott Hotel where each company had to set up a trade stand and be interviewed by judges at the stand. Finally, each group had to deliver a five minute presentation to judges and in front of the other participants.
The next round of the competition takes place in June.