Jesmond pool guard wins award for saving life
A young volunteer lifeguard at Jesmond Pool has been presented with a lifeguarding trophy –  for saving a man from drowning more than 3,000 miles from Jesmond.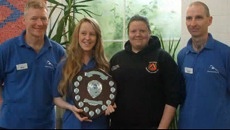 The president of the Royal Life Saving Society (Northumberland and Durham Branch), Tom Thewlis, and its chairperson, Penney Wilkinson, presented Sally Edwards with the Andrina Haigh Memorial Trophy, praising her remarkable heroism and bravery.
Edwards and her family were staying at the Kombo Beach Hotel, a beachside hotel in Kotu, the Gambia, over the Christmas holiday. While popular with swimmers and paddlers, this particular stretch of the Atlantic Ocean is infamously dangerous.
On New Year's Eve, Edwards and her friends were playing in the surf when she saw a man in his fifties, who was also staying at the hotel, further out to sea. In this video, she recounts in her own words exactly what happened:
Barry, the man she saved, was under no illusions as to the importance of Edwards' intervention. "He came across to me almost immediately and thanked me for having such a brave daughter," Edwards' mother said.
"He said he was weakening fast and trying not to panic and he'd have drowned if he'd not shouted for help when he did."
Edwards is one of around a dozen volunteer lifeguards at Jesmond Pool. In return for their voluntary service, the pool provides them with free, authorised lifeguard training which enhances their employability.
Pool secretary Chris Clarke told JesmondLocal: "We always have fully paid lifeguards on site, but supplementing them with volunteers provides extra cover and more flexible shifts."
"The deal is very popular with sports studies students at Northumbria Uni and elsewhere, and also with competitive swimmers considering a career in sport or recreation management, or as a swimming teacher."