Goodall wins first round of $10k Jesmond tennis tournament
British number 4 Josh Goodall has progressed comfortably to the next round of a professional tennis tournament at Jesmond's Northumberland Club where spectators included former world number 4 Greg Rusedski.
Goodall is one of the world-class tennis players competing at the Northumberland Club this week as part of the Aegon $10,000 Pro-Series Tournament, and yesterday beat fellow Brit Ollie Golding in straight sets.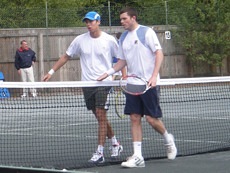 Top seed Goodall, ranked inside the world's top-300 and part of the British Davis Cup squad, will be hoping for a wildcard into Wimbledon this year.
The Pro-Series tournament is part of the clay-court season which culminates in the French Open at Roland Garros at the end of the month. As well as the promising British players, the draw contains many French and Spanish clay-court specialists.
Play typically starts at 10am and finishes at around 6pm throughout the week, and the Northumberland Club welcomes spectators.
"For people in Jesmond who like watching tennis, then this is a perfect opportunity to watch some superb quality tennis close up – and it's free," said general manager Jim Douglas. "It's pretty awesome tennis and worth coming along to watch."
For the daily order of play, click here.
JesmondLocal's Chris Hay pulled up a seat beside Rusedski to report on the match:
Josh Goodall (1) vs Oliver Golding – 1st round, AEGON Pro-Series $10k
0-0 With British legend Greg Rusedski in the crowd – and sitting right next to me, in fact – top seed Josh Goodall get his tournament underway against fellow Brit Ollie Golding.
0-2 Goodall's off to a poor start, losing his first service game with barely a whimper. Caught cold.
0-3 A huge forehand down the line brings up Golding's third consecutive game. Dream start. Goodall's already muttering angrily to himself…
1-3 Sums up his match so far. Goodall creates a fantastic angled forehand winner at 15-all, serve-volleys the next point before dumping a double fault into the net. Finally secures his first game though.
1-3 This time it's Golding's turn to show his frustration. "So bad!" he shouts as he slams his racquet into the court. The next point, Goodall pipes up. "Why are you slicing it?" Come on boys, calm down. You've only being playing 15 minutes…
2-3: "F**king crap game!" Golding shouts as he sees another forehand winner sail past him. Now that's not very British is it? You'd never catch Tim Henman saying that… Back on serve.
2-3: Golding's temper's doing him no favours. He smashes the ball into the net in anger three times after missing an absolute sitter at the net. My gran could've put that one away.
2-3: Point of the match at 15-15. A twenty shot rally sees Goodall scrambling around the baseline before Golding finally wrong-foots him with a big forehand. Great point. 15-30.
2-3: McEnroe moment from Goodall. Dodgey line call on his first serve and he shouts, "There's no way that was out! It's a farce!" Wouldn't go that far, Josh. Golding fluffs his lines on the break point though.
3-3 Huge first serve brings Goodall level for the first time in the match. Not without incident though – he makes a snide remark about the line call, and Golding responds. Not exactly the best of mates at the moment, these two…
4-3 Goodall's turning it on now, as the sun finally comes out. Breaks to love. That forehand of his is a real weapon.
5-3 Luck's not on Golding's side either. Massive forehand return at 15-0 is chipped back by Goodall, only for it to clip the net and drop for a winner. A glorious overhead from the British number 4 rubs salt into the wound. Holds to love.
5-3 A double fault on his first service point means Golding hasn't won any of the last 10 points…
5-3 To be fair to him, he then goes and produces his best shot so far. Incredible power on a forehand down the line. Much more aggressive from Golding. Good match to watch, this.
5-3 Golding's groundstrokes are landing far too short, Goodall's having a field day on some of them. The shouting's quieted down by the way, replaced by manly grunting. Oh, and another racquet smash from Golding. Set point.
FIRST SET GOODALL 6-3 Golding saves the first one but then pushes a simple forehand long on the second. Inconsistency, that's his problem. The longest – and best – game of the match finally ends, and the first set goes to Goodall. As you can imagine, Golding isn't happy. Rusedski's off to the toilet, I overhear.
6-3 0-0 Mind games at the start of the second set. Golding calls for the trainer, and immediately Goodall decides he's injured too. "Yeah I need to see him too," he snaps.
6-3 0-0 "Chances of making that…pretty slim," Goodall mutters as he attempts an audacious down the line forehand passing shot. Correct, Josh.
6-3 0-0 Jeremy Bates is in the crowd too by the way, next to Greg. He's not impressed with Goodall's complaining – and there's been a lot of it. "He won the point, it doesn't matter if it was a dodgy bounce," he whispers to Greg.
6-3 1-0 Big ace down the middle finally secures Goodall's service game. Golding has a medical time-out, and the trainer seems to be heavily taping up his right wrist. A fairly camp shake of the wrist from Golding, and we're good to go again. Goodall didn't really need the trainer. Surprise, that.
6-3 1-0 Golding's come to the net twice in this game – one volley missed, one safely put away. Change of tactics for the second set?
6-3 2-0 Doesn't change the outcome though. Golding double-faults to hand Goodall a break of serve. Too easy at the moment for the top seed.
6-3 2-0 Chance here for Golding, as Goodall mishits a forehand long. 15-30.
6-3 2-0 Gone as soon as it arrived. Booming ace down the middle. Playing the big points well today, Goodall.
6-3 2-0 "Missing them by inches, inches, inches!" Golding complains to himself. Then the very next shot, he hits the return of the match. Pushed wide by the Goodall serve, he nonchalantly smashes it back down the line for a winner. Got that one, by inches.
6-3 3-0 Goodall wraps up the game, cue more racquet smashing from Golding. How it hasn't broken, I'll never know. Over and over again on the baseline. If only his mental game was as tough as his racquet eh?
6-3 3-0 Goodall's clicked into another gear. Two superb return either side of an ace from Golding. 15-30.
6-3 3-1 But give him credit, Golding raises his game too. One more ace and a beautifully constructed attacking point means he registers his first game of the second set. "Yes, finally!" he cries.
6-3 4-1 Considering he's a set and a break up, Goodall's in a surprisingly bad mood. "Pot luck what bounce you're gonna get. Pot luck," he moans. Though another flukey net-cord wins him the next point, and he goes on to seal the game. That'll cheer him up.
6-3 4-1 Golding needs a miracle from here. Goodall is just 2 games away from victory. Golding races into a 30-0 lead though, and Goodall blames the bounce. Again.
6-3 4-2 "Such a bad game!" says Goodall as he pushes a forehand way beyond the baseline. Good game from Golding.
6-3 4-2 Beautiful drop volley from Golding. Definitely coming into the net more this set. 0-15
6-3 5-2 Then he just misses an attempted lob. By inches, in his words. He lets his head drop and Goodall sees out the game with a forehand winner, set up in the middle of the court from another short Golding groundstroke.
6-3 5-2 0-30 and yet another racquet smash from Golding. "There's nothing wrong with a racquet smash," says Jeremy Bates. Goodall two points from victory.
GOODALL WINS 6-3 6-2 Comfortable in the end for Goodall, despite the early scare at the start of the first set. He was far more consistent than his opponent, and kept his cool a bit more. Only a bit, mind. Great start to the tournament.