Goodall discusses Wimbledon hopes with JesmondLocal
British number 4 and Davis Cup player Josh Goodall yesterday eased into the second round of the Aegon Pro-series $10k Challenger tournament at the Northumberland Club on Tuesday 11 May, with a 6-3 6-2 win over fellow Brit Oliver Golding. Chris Hay caught up with Goodall after the match to discuss his performance, his Wimbledon hopes and the Davis Cup.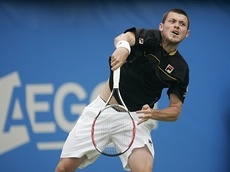 [mp3player width=230 height=100 config=fmp_jw_widget_config.xml file=http://jesmondlocal.com/wp-content/uploads/2010/05/Josh-Goodall-talks-to-JesmondLocal.mp3]
Chris Hay also watched the third match on the show court at the Northumberland Club, a first round tie between British 19-year old Ahmed El Menshawy and fifth seed Mathieu Rodrigues. The Frenchman won in straight sets 6-2 6-2, with his clay-court experience proving too much for El Menshawy. Watch the two players in action in the following videos:
Rodrigues, world number 423, now faces another talented Briton, 22-year old Burnham Arlidge, in the second round.