JesmondLocal at the Aegon Pro-Series
At the quarter-final stage of the Aegon Pro-Series $10k, only two British players were left in a draw dominated by Frenchmen and Spaniards – unseeded Matthew Illingworth and the top seed Josh Goodall.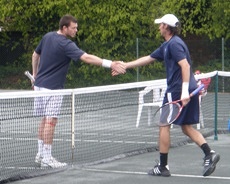 They played at the same time on neighbouring courts today, but it was Davis Cup star Josh Goodall who JesmondLocal again focused on. He played the sixth seed, Frenchman Ludovic Walter, for a place in the semis.
Josh Goodall (1) vs Ludovic Walter (6)
0-0 We've got the umpire, the line judge, the crowd and his opponent, but where's Josh? Some worried looks are exchanged between the umpire and tournament officials. Walter is stripped and ready to go, and after about 5 minutes trying to keep warm, he now just looks bored. This would be an anti-climax wouldn't it…
0-0 Phew. Josh finally turns up, looking very casual about it all. He probably just fancied a lie in. Anyway, game on. Walter, dressed head-to-toe in navy blue, wins the toss and elects to receive first. Perhaps he knows Goodall's dropped his first service game in both of his first two matches.
1-0 Goodall falls 0-30 behind and that lie-in seems to have done him no favours. Sluggish start, and it looks like he's going to continue the bad habit of losing his opening service games. A big serve and a cheeky drop shot saves him though, and he holds.
1-0 Walter is struggling to find his rhythm on his serve, and an inside-out forehand lands plum on the far side-line for Goodall's first clean winner. Break point.
2-0 Goodall attacks another second serve, and forces the tall Frenchman into a mistake. Early break of serve.
2-0 Shall we open a book on the time of Goodall's first comment? I'm going for half way through this first set.
2-0 Ha! Shows how much I know – we get one the very next point. "Good serve Josh, good serve!" he says to himself as he hits an awful double-fault. Lots more of those comments to come, I expect (and hope).
3-0 Despite being taken to deuce, Goodall holds serve. Mistake after mistake from Walter.
Just thought I'd share a text I just received from a friend. He's stressing over a piece of coursework I've already submitted, and when I told him I was in the sun watching the tennis, he replied: 'Are you kidding me? I hate you. I hope a wayward smash breaks your nose'.
3-1 Much better from Walter. A serve-volley play brings up 40-15, before he wins the point of the match so far. Some huge groundstrokes are exchanged before Walter chases down a drop shot to hit one of his own that Goodall can get nowhere near. Great disguise.
4-1 This match has come to life. Great tennis from both men, but Goodall gives a masterclass in attacking play, moving Walter from side to side with some outrageous angles. Impressive defence from the Frenchman, but Goodall cracks a big forehand onto the near sideline for a clean winner. Good hold.
4-1 Walter is playing this match entirely on the back foot. His scrambling around the baseline is Nadal-eque, but at the moment Goodall's bossing this. 30-30
5-1 He's gutsy, you have to admit. Walter is throwing himself around, desperately hunting down everything, but Goodall is just toying with him. He's lured into the net with a drop shot, and while he acrobatically makes his first volley, he can only get a racquet frame on the second. Double break for Goodall, and well deserved.
5-1 Goodall's got his first serve sorted today, and it's a real weapon. Two flat, booming ones bring up two set points.
FIRST SET GOODALL 6-1 And another Walter mistake hands Goodall the first set. That only took about 25 minutes. The match on the next court is still at 2-3! The Frenchman isn't happy, and smacks a ball into the ground in frustration. That was all a bit too easy for Goodall. Doesn't look like we're going to have another epic three-setter like yesterday.
6-1 0-0 Ooh la la. The Frenchman serves a weak double fault on the very first point of the second set. Cue a very Gallic shrug of the shoulders. Not exactly a statement of intent. 0-15.
6-1 0-0 Another tame double fault from Walter brings up two break points, and it seems the writing's on the wall. But credit to him, three consecutive excellent points at the net save him.
6-1 0-0 Great comedy moment from Goodall. His knee somehow gets in the way of his racquet swing and it gifts an easy volley to Walter. 'As if you hit your knee! Who does that?!' he asks in disbelief.
6-1 0-1 This game is getting ridiculous. It's been deuce for about 10 minutes. Goodall's hitting winners from all over the court, but somehow Walter is saving the break points time after time. He's a fighter, you've got to give him that. And it pays off, as Goodall hits a ball long (breaking a string in the process) and the Frenchman finally holds his serve. Gritty.
6-1 0-1 Walter takes a Goodall second serve very early and crushes a forehand winner down the line. Classy. He could do with more of those. 0-15
6-1 1-1 And he does it again. Much more aggressive from Walter, and another powerful, deep forehand return pushes Goodall onto the back foot. He can't sustain the pressure though, and drops two routine groundstrokes into the net to gift Goodall the game.
6-1 2-1 Goodall races into a 0-40 lead with a big crosscourt forehand that Walter, despite his impossibly long arms, can't get near. Walter then hits yet another simple shot in the net, and the break of serve is Goodall's. Long way back now for Walter.
6-1 3-1 This is Goodall's best serving of the tournament by a mile, today. He hits an  ace down the T at 30-0 and a comes in behind another big first serve to put away a crisp crosscourt volley the very next point. Textbook.
6-1 3-1 Copycat. Serve-volley followed by an ace for Walter. Anything you can do I can do better? That'd work, if he wasn't a set and a break down… 30-0.
6-1 3-2 Very well constructed point from Walter. He keeps Goodall pinned back in the far corner with some loopy inside-out forehands, and then throws in a perfectly disguised drop shot that Goodall doesn't even bother chasing. 'Good shot!' he concedes.
6-1 3-2 Walter slams his racquet into the court as he horribly mishits a backhand off the frame. 30-0
6-1 3-2 Rush of blood to the head as Walter goes for a clean winner on break point, and smashes it crosscourt into the tramlines. 'Allez!' he shouts in frustration.
6-1 4-2 Goodall finally holds, but he's not happy. 'You've got no focus, zero concentration. You're watching that match more than your own!' 'That match', by the way is Illingworth  vs ?? and it's at just 5-5- in the first set.
6-1 4-2 Where's this come from? Walter is suddenly hitting some seriously fast serves. Fuelled by anger, perhaps? He follows one in and plays a sumptuous drop volley to bring up game point. Great touch from the big man.
6-1 4-3 What's the tennis equivalent of 'game of two halves'? Because this set is nothing like the first – Walter's raised his game a lot, and is playing some terrific stuff now. He's playing off the front foot and mixing it up – different spins, coming in to the net, drop shots…. Much better spectacle. Finally holds his serve.
6-1 5-3 Goodall doesn't let him get into this game though. Big serving from the top seed, and he's just a game away from the semis.
6-1 5-3 Unbelievable hitting from Goodall. He absolutely wallops five enormous forehands in a row – and I mean enormous – and the last one finds the sideline with precision. Sensational. 0-15.
6-1 5-3 'Non non non. Ay ay ay!' Walter mumbles as he gives away a match point after missing the simplest of drop volleys. He's very French, this guy.
GOODALL WINS 6-1 6-3 And he's made to pay. More big hitting groundstrokes from Goodall, and Walter is moved from side to side before finally put away with a trademark inside-out cross-court forehand. That was a bit of a masterclass from Goodall today.
So Goodall cruises into the semi-final in just an hour of tennis. His forehand was a real weapon today, as was his serve. Big improvement from yesterday, and he seems to be peaking at just the right time of the tournament.
After the match, JesmondLocal spoke with one of Josh Goodall's watching fans, Maurice O'Neill.
[mp3player width=230 height=100 config=fmp_jw_widget_config.xml file=http://jesmondlocal.com/wp-content/uploads/2010/05/Maurice-ONeill-talks-to-JesmondLocal.mp3]
JesmondLocal also watched Goodall's second round match the day before. Read below for a blow-by-blow account, followed by an interview with the player he beat, Colin O'Brien.
Josh Goodall (1) vs Colin O'Brien
David Cup star and tournament favourite Josh Goodall eased past Oliver Golding in his first round match at the Aegon $10k Pro-series tournament yesterday, and then faced left-handed Irishman Colin O'Brien for a place in the quarter-finals.
Game-by-game updates:
0-0 Goodall, all in white, won the toss and has decided to serve first. He dropped his opening service game yesterday – he'll be hoping for a brighter start this time around. Talking of bright, the sun's just come out. Lovely.
0-1 But just like yesterday, Goodall drops his opening service game as he misses an ambitious drop shot on break point down.
0-1 Half a chance for Goodall at 15-30, but an angled forehand from O'Brien leaves Goodall chasing shadows. Beautiful shot.
1-1 A harmless sliced backhand from Goodall clips the top of the net and it drops within inches of O'Brien's side of the net. Jammy, but it brings up a break back point which Goodall converts, as O'Brien pushes a passing shot long.
1-1 Maybe he's practiced them? Another net cord wins Goodall the point at 0-15 down. Quite a trick if it's deliberate. "Sorry mate," he apologises. Bet he doesn't mean it.
1-1 Goodall saves a break point with a gutsy forehand down the line that's too hot for O'Brien to handle. His serve hasn't clicked yet though – can't remember the last time he got a first serve in.
2-1 His groundstrokes are up and running though – his consistency from the back of the court is too much for O'Brien, who sends another forehand long. Important hold for the top seed.
2-1 "How did you miss that?!" Goodall shouts as with O'Brien pushed out wide, he misses a simple forehand with the whole court open. How indeed. Shocker.
3-1 He doesn't let it affect him though, and a couple more O'Brien mistakes hands Goodall another break of serve. He's not doing anything special here, just not making as many errors as his opponent. Following a very similar path to yesterday's match so far… Massive ace seals the game.
4-1 "What the f*ck is that?" It's O'Brien's turn for a shout now, as he dumps a simple forehand in the net. It's quickly followed by another Goodall ace, to bring up 4-1.
4-1 No Greg Rusedski today by the way, he clearly found it too cold up here in the North and has returned to sunny London. It is quite chilly here, to be fair. He hasn't really missed much so far, not a classic match.
4-1 Commentator's curse. Just as I type that last comment, the players produce the rally of the match. About ten deep, aggressive groundstrokes are exchanged before O'Brien sneaks into the net to put away a delicious drop volley. 30-15. More of that, please!
4-2 Brilliant comment from Goodall. "Oh man! I've seen bad lobs in my time, but that…" Very true too, his 'lob' was at a perfect chest height for O'Brien to put calmly away.
5-2 Finally, a first serve. And it seals the game for Goodall.
5-3 A forehand return from Goodall lands halfway up the net. "Lame! So lame!" Wow, haven't heard that word used since about 1998… O'Brien finishes the game.
5-3 Throwing a bit of a tantrum now, as Goodall goes 30-40 down. "Is there any chance, any chance, of two decent bounces in a row?" he asks. Saves the break point though.
5-4 Shot of the match! O'Brien draws Goodall into the net then flicks a glorious topspin backhand lob over him into the back left corner. Impudent. Federer-esque. Brings up a break point, which is converted by the Irishman. Goodall's thrown it there, he was serving for the first set… Back on serve.
5-5 What a rally! Fully 30 shots long crosscourt, O'Brien finally clinches it with a forehand that lands smack on the line and leaves Goodall with no chance. Brilliant. It's come to life, this match. Three games in a row for the Irishman now.
6-5 From looking comfortable at 5-2 up, Goodall's now looking shakey. A couple of solid points and one missed volley from O'Brien earns him the game though.
6-5 From 0-30 to 30-all. "How many times do you want to be 30-0 up in a game? How many times?" Goodall fumes to himself.
6-5 What do you have to do to get a code violation these days? Goodall wastes two set points and hurls his racquet into the back fence. The crowd tries to stifle a laugh – was quite funny, that.
7-5 FIRST SET GOODALL Yet another of Goodall's special net cord shots earns him his third set point, which he finally takes as O'Brien's backhand lands a fraction wide of the right sideline.
Shockingly, here at Jesmond Local we don't have access to the stats like Andrew Castle does at Wimbledon. But I'd love to see Goodall's first serve percentage in the set. Bet he wouldn't though – I'm guessing it's at around just 20%.
7-5 0-1 An ace and a huge forehand down the line saves Goodall two break points, but he loses the third one. He's the one doing all the running at the moment – O'Brien's bossing the rallies. The consistency Goodall had for most of the first set has gone. "Two good things, one bad thing. One good thing, three bad things!" Goodall moans.
7-5 1-1 He's playing well, but that was a silly shot selection from O'Brien. The Irishman attempts a drop shot from way behind the baseline. It drops into the net, and Goodall converts the ensuing break point. Back on serve.
7-5 2-1 That's how you hit a drop shot. Great disguise from Goodall, and though O'Brien scrambles it back, it's a simple passing shot for the British number 4. Takes the game.
7-5 2-1 He's a bit like an angry bear at the moment, Goodall. He's prowling around the court between points, growling to himself.
7-5 2-1 Beautiful touch from the bear. A delicate drop shot lures O'Brien into the net and leaves the whole court open for an easy forehand winner. He wastes the ensuing break point though. Cue a prolongued growl: 'That sums you up, in one point." Grrr.
7-5 2-1 It's been deuce in this game for about 15 minutes. "This is getting boring now. Just lose the game, get on with the match!" Goodall tells himself. Loving his comments today.
7-5 3-1 Finally, Goodall wins one of his break points to end the longest game of the match by far. A great one-two punch – he hits a booming forehand down the line, comes in behind it and slams away the volley.
7-5 3-1 Goodall's first serve percentage can't have improved by much in this set.  Still, he hits an ace and does a Rafa Nadal fist-punch to celebrate, He can't really pull that off…
7-5 3-2 Talkative Goodall's doing all my work for me. "We're having ninety-minute games!" he says. It's true, this one is another long one. And one Goodall loses, after all that. Back on serve, and neither player's really taking a hold of this set.
7-5 3-3 That game was quicker. O'Brien holds to fifteen with an ace.
7-5 4-3 A sumptuous drop shot and three crashing crosscourt forehands ensures another quick game, this time for Goodall.
7-5 4-4 Goodall fights back from 30-0 down but O'Brien holds on. Good fight from the Irishman, but too many errors from Goodall.
7-5 4-4 Fantastic from O'Brien. Incredible half-volley pick-up from the baseline, then brings Goodall to the net with a perfect drop shot before smashing a passing shot past him. 15-30.
7-5 4-4 CODE VIOLATION! It's all kicking off here. Goodall goes break point down and launches a ball out of the court in rage. That ball went so high it will probably never come back down. The umpire has had enough and (very politely) warns him as to his future conduct.
7-5 5-4 Goodall composes himself, saves a couple of break points and wins the game with an ace. One game away from the quarter-finals.
7-5 5-5 O'Brien holds his own serve without any difficulty though.
7-5 5-6 Interesting… Goodall slips to 15-40 and O'Brien breaks his serve after a backhand from Goodall sails long. Suddenly, O'Brien will be serving for the second set.
7-5 5-6 Oh my, Goodall's a lucky boy. He's already been given a code violation and now he smashes another ball away in anger. He should've been deducted a point there really.
SECOND SET O'BRIEN 7-5 5-7 Well well well. Now we've got a game on our hands. O'Brien produces a wonderful point at set point to clinch the second set. He goes for an official toilet break to celebrate, while Goodall the bear fittingly chooses the tress next to the court.
7-5 5-7 0-0 So the match is reduced to a one set shoot-out. Goodall doesn't look happy about it as he immediately goes break point down.
7-5 5-7 1-0 But he saves it with a timely unreturnable first serve, before chip-and-charging as if he was on a grass court to hold his serve.
7-5 5-7 2-0 Goodall must have hit about 15 slice backhands in a row in that rally, just waiting for an O'Brien error. It finally comes, and he lets out a huge roar after he smashes a stunning forehand winner the next point to break the Irishman's serve.
7-5 5-7 2-1 Wow. Goodall thinks he's done enough with a grass court serve-volley play but O'Brien has other ideas, firing a classy backhand winner past him down the line to break back. This is a great match now.
7-5 5-7 2-2 Composed hold from O'Brien. He's playing excellently, could be a major upset here you know.
7-5 5-7 3-2 Goodall's clearly not happy on clay… 'Show me the way to the grass, please!' he bellows. As if to prove what he can do on grass, he serve-volleys to seal the game. 'See!' he shouts.
7-5 5-7 4-2 Sensational inside-out forehand from Goodall. He runs around his backhand and hits the ball from way off the court for a cross-court winner. O'Brien double-faults on break point, and it's advantage Goodall.
7-5 5-7 5-2 Goodall's clearly decided to play like he's on grass. Another serve-volley brings up game point, which he converts with a walloped forehand down the line. That 1st serve percentage still hasn't improved though.
7-5 5-7 5-3 Comfortable hold for O'Brien.
7-5 5-7 5-3 Goodall's serving for the match but before he starts, he has a pop at the crowd, telling us to pipe down. Bit harsh…we're not at Wimbledon, Josh. He goes 30-0 up, and the crowd is SILENT.
GOODALL WINS 7-5 5-7 6-3 Well he made hard work of it, but what a way to win. That's the first game of the match held to love, would you believe. A real struggle overall for the top seed, and great credit to O'Brien who played some superb tennis in parts. It's Goodall who marches on to the quarter-finals though.
[mp3player width=230 height=100 config=fmp_jw_widget_config.xml file=http://jesmondlocal.com/wp-content/uploads/2010/05/Colin-OBrien-talks-to-JesmondLocal.mp3]