Guerilla gardening this Sunday
Why not come down to the woods one Sunday in May?  Well, perhaps "woods" is a bit of an exaggeration when the trees are less than a metre high, but they are growing fast.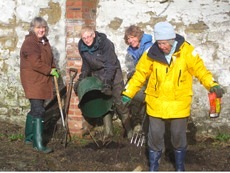 The first trees were only planted in Jesmond Community Orchard in December, and the grass seed was sown at Easter, and is establishing well. The site is already transformed, but there's plenty more to be done to make this a rural retreat in the heart of the city.
So on Sunday 16 May at 2.00pm a working party of volunteers will assemble to cultivate and plant, while others cheer them on.
Anyone who wants to join in is welcome to the North West corner of St Andrew's Cemetery, off Tankerville Road. Bring your own tools, if you have any, a drink and a picnic, and help make a difference.
It will also be an opportunity to learn about a series of  guerrilla gardening sessions which are taking place every Wednesday afternoon throughout May and June to help create a sensory garden in Exhibition Park.
These Wednesday sessions in May and June take place between 1.30pm – 5.00pm with volunteers meeting at the Exhibition Park café.
Whether you are a green-fingered pro, or just keen to get your hands dirty, you can come along to help us plant and maintain our local parks and gardens. You'll be helping to create some beautiful spaces for the local community to enjoy, whilst having fun and making new friends.
For more information contact:
Fiona Clarke, Jesmond Community Orchard on 281 0758 or Clarke@newbrough.fsnet.co.uk
Amy Redpath, Jesmond Ward Co-ordinator on 277 3635 or amy.redpath@newcastle.gov.uk