Frenchman lifts Northumberland Club title
Top seed and British number 4 Josh Goodall disappointingly lost to Frenchman Mathieu Rodrigues in the semi-final, so it was an all-French final at the Aegon Pro-Series $10k at the Northumberland Club. Rodrigues took on second seed Eric Prodon for the title, on an immaculate clay court bathed in morning sunshine. JesmondLocal's Chris Hay reported on the action: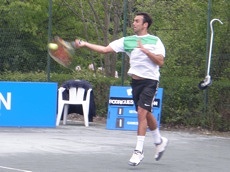 Eric Prodon (2) vs Mathieu Rodrigues (5)
1-0 Prodon won the toss and has elected to receive first. But with a sizeable crowd looking on, it's very much a warm-up game for both players, with Rodrigues holding serve without difficulty.
Interesting fact about Eric Prodon, by the way: he has beaten the mighty Roger Federer. Admittedly on the Juniors circuit, but still…
1-1 Both players are starting to find their rhythm and touch – there were three perfectly executed drop shots in this game. Comfortable hold for Prodon though. That said, neither of these two players have particularly big serves, so expect a fair few break points in this match.
1-1 What did I tell you? Two break points as Rodrigues makes two cheap unforced errors, dumping a couple of groundstrokes in the net. He saves the first with a forehand passing shot after hunting down another Prodon drop shot.
2-1 But he can't save the next one. He nets another routine forehand, and Prodon breaks serve.
2-1 That's ridiculous. Prodon clearly loves a drop shot and this one, on break point down, has so much backspin that it actually bounces back towards the net after it lands. Perfect. 30-40
2-1 Rodrigues fluffs his lines on the second break point, hitting an attempted backhand winner into the tramlines. He half-heartedly throws his racquet onto the court. As if he knows that really, his racquet's quite expensive and he can't afford to break it. Token gesture.
3-1 Prodon closes out the game. He's just settled a bit quicker, the second seed.
3-2 Rodrigues holds his serve with a brilliant crosscourt backhand behind Prodon, who was predicting a down the line shot. Nice disguise.
4-2 Rodrigues is making too many unforced errors at the moment. He could've laid into a fairly tame second serve from Prodon there, but instead the ball lands half way up the net. Nerves maybe? Prodon holds again.
4-2 That won't help Rodrigues either. He casually bats away a ball he presumes bounced out, but there's no call from the umpire and he loses the point. Rookie error. 0-30.
4-2 Prodon's bossing this, moving his compatriot from side to side on the baseline, waiting for an error. Rodrigues duly obliges as a sliced backhand sails comfortably wide. More break points. 15-40. Virtual set points, these.
4-3 Credit to Rodrigues, he rallies and produces two great points to save himself. He gives Prodon a taste of his own medicine with a drop shot before hitting the ball into the open court, then hits an ace. Big hold.
The umpire by the way is Scottish, but puts on a comedy French accent when trying to say 'Rodrigues'. Amusing.
5-3 Brilliant from Prodon. On game point, he lures Rodrigues into the net with – you guessed it – a drop shot, before impudently lobbing the ball over his opponent's head. Textbook.
5-3 Rodrigues tries to beat Prodon at his own game. He hits a heavily sliced drop shot and it looks for the world it'll be a winner, but Prodon not only chases it down but finds an absurd angle with his own drop shot to bring up two set points. 15-40
FIRST SET PRODON 6-3 'Play to the whistle', I would tell Rodrigues if he was playing Sunday League football. He casually clips back another shot he wrongly presumes to be out and Prodon pounces, smashing a forehand down the line to clinch the set.
6-3 1-0 Another delicate racquet smash from Rodrigues at 40-0, before an ace seals the game for Prodon. Solid start to the second set from him. Rodrigues needs to raise his game and play more aggressively to have a chance in this final. He can't really get a foothold, and seems a bit overawed.
6-3 2-0 CODE VIOLATION! Rodrigues loses his serve limply, and finally snaps. He launches a ball out of the court and probably out of Jesmond too. The umpire, in a fairly 'headmistress' kind of way, gives him the proverbial yellow card.
6-3 2-0 Maybe it's fired him up? Rodrigues pummels a sublime crosscourt backhand winner the very next point. Off the front foot, for once.
6-3 3-0 Maybe not. Another racquet smash, this time with a bit (but not much) more intent, as Rodrigues launches a groundstroke long on game point. He hasn't won any of the last five games.
6-3 3-0 That's a laughable attempt at a drop shot from Prodon – it actually bounces on his side of the court before reaching the net. At least he can smile about it. 0-15.
6-3 3-0 "Ooh!" goes the crowd. Rodrigues tries a spectacular through-the-legs shot as he hunts down a Prodon lob. It hits the net, but still draws gasps of appreciation. Kind of like the reaction you hear from a fireworks display… 30-30.
6-3 3-1 'Do you want any more chances?!' Rodrigues shouts (but in French). Finally, he converts a game point though and gets on the scoreboard, with a glorious backhand winner down the line.
6-3 3-1 Break points for Rodrigues, as Prodon buckles under intense pressure from some deep groundstrokes and sends one long. Now it's his turn smack a ball away in frustration. A big serve the very next point saves him though.
6-3 3-2 But he can't save the next one. Prodon can't get anywhere near a fantastic forehand winner from Rodrigues that lands bang on the sideline, and we're back on serve. Bit more of a contest, this set.
6-3 3-3 Despite a jammy net cord half-way through the game from Prodon, Rodrigues holds his serve easily. He's visibly growing in confidence.
6-3 3-4 Three break points for Rodrigues, who is playing like a man possessed. Where's the nervous, error-prone player we saw in the first set? He's pumped at the moment, and only needs one chance as Prodon makes an unforced error. Suddenly, the set has turned on its head. This final has finally come to life.
6-3 3-5 Prodon lets out a primeval roar as he misses another groundstroke. Complete role-reversal here – Rodrigues used to be making the mistakes, and Prodon was the cool, composed one. Rodrigues hits probably his finest shot of the day the next point as he rides up onto one foot to lay into a double-handed backhand winner. Majestic.
SECOND SET RODRIGUES 6-3 Now we've got a match on our hands. The rejuvenated Rodrigues wins the game to 15 and takes the second set. Prodon has lost all his composure, and he's reverting to hitting drop shots far too often. So the final goes down to a deciding set.
6-3 3-6 1-0 How did that happen? In the blink of an eye – and after a very good set of tennis – Rodrigues drops his serve, and lies down on the baseline for a rest. He has a nap for a good 10 seconds. Cue titters from the crowd.
6-3 3-6 2-0 That's just embarrassing. Another attempted drop shot from Prodon, and this one doesn't even reach the net, landing closer to his own service line. Still takes the game though.
6-3 3-6 3-0 From the ridiculous to the sublime. Prodon hammers a return of serve back down the line for a glorious winner. Rodrigues didn't even move. He follows it up with a delicate drop volley and breaks Rodrigues' serve again. Topsy-turvy match.
6-3 3-6 4-0 Prodon's playing like he did in the first set again, striking the ball so cleanly. He holds to 15. 'It's concentration that's letting him down,' whispers the lady sitting in front of me about Rodrigues. Very true.
6-3 3-6 4-1 Rodrigues falls 15-40 down and his match seems over. But he pulls himself together and fires two clean winners off his forehand side en-route to a big hold.
6-3 3-6 5-1 Two double faults in a row from Prodon. And just as I thought he was regaining his consistency… Rodrigues wastes his break points though and Prodon is now just a game away from the title.
6-3 3-6 5-1 Rally of the match brings up championship point. The players exchange some big groundstrokes, before Prodon moves into the net. Rodrigues thinks he's passed him three times, but each time Prodon acrobatically gets a volley back. He finally puts the fourth volley away.
PRODON WINS 6-3 3-6 6-1 Rodrigues pushes his forehand wide and Eric Prodon takes the championship. A big smile but muted celebrations from the Frenchman, who is the friend and training partner of the player he just beat. There's a low-key presentation on court – not even a trophy, would you believe. Hardly a fitting end to what has been a brilliant week of world-class tennis at the Northumberland Club.