Northumbria students get planting in Brandling
The local volunteers who have spent much of the last 13 years revitalising Brandling Park have welcomed an offer from Northumbria Students' Union to replant beds in the park this Wednesday afternoon.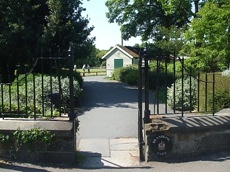 Volunteer Northumbria is a programme which enables Northumbria University students to plan and deliver their own voluntary projects in the local community. Projects are run by project leaders, who are supported by student volunteering co-ordinator Lady Kitt. This year more than 450 students are volunteering, delivering more than 30 projects with local, regional and national organisations and charities.
In the past, Northumbria students have not only helped with planting, but have decorated the underpass walls with a children's art project they had set up – as well as helping repaint the whole underpass.
"With the students help, we are going to replant the beds in the park in the afternoon of Wednesday 26th May, starting around 2pm," says Keith Pimm, secretary of the Brandling & Exhibition Parks Friends Group. "If you would like to help with the planting, please bring a trowel or what you use. We will have bedding plants, but if you have spare flowering plants, we will be delighted to give them a place of honour.
More information is available from Keith Pimm on 0191 281 2606 or keithpim@btinternet.com