Go for a 'low energy walk' this weekend
Local people are being invited to take part in a "low energy walk" around Jesmond this weekend.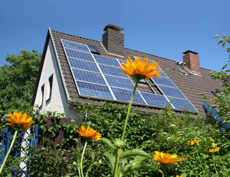 Organised by green campaign group Transition Jesmond, the walk will include tours of three houses in Jesmond to see and discuss what steps have been taken to reduce their energy consumption – and how effective those measures have been.
One house uses a solar thermal panel to produce hot water from the sun's heat, the second has an array of solar PV panels that produce electricity, selling some of it back to the national grid, while the third has installed very deep loft insulation, wall insulation, underfloor insulation and double glazing. It benefits from some passive heating from the sun – considerable given the insulation – and it also has a recently fitted wood-burning stove.
"It isn't all of the answers to climate change, or increasing prices for fossil fuels, but the walk will show some of the things you can do yourself," explains Steve Emsley of Transition Jesmond. "It will give you a chance to talk to the people who can answer questions from their own experience."
The walk is free and takes place this Saturday morning from 10:30am to 12:30pm and begins at 20 Burdon Terrace, Jesmond, NE2 3AE. To book a place, email your name to transition-initiative-newcastle@talktalk.net