Review: Creased Comedy at The Mixer
Anti-panda rants and other politically incorrect gags left the sixty attendees of the first Creased Comedy night in stitches on Friday night at The Mixer.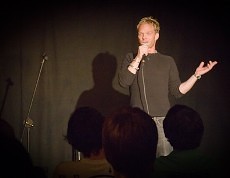 For a first event at a small venue, the comedic line-up featured well-known names with a diverse mix of performance styles. There was an act to please – and occasionally shock – just about everyone in attendance.
Award-winner Sam Gore opened the event with a witty roasting of the nation's favourite school dinner reformer, before local man Simon Buglass treated the audience to his memoirs of a chunky childhood.
Jay Hampson chronicled his transformation from a Manchester ghetto kid into a self-loathing, Guardian-reading, consumer of overpriced organic products. And Christian Steel, clearly excited to be performing in his home city, ensured the audience went home in hysterics with an energetic role play.
Although there was a smattering of empty seats, Mixer manager Bev Fox was delighted with the proceedings. "The night went brilliantly with regards to the quality of entertainment and atmosphere," she said. "The Mixer is at an embryonic stage and we know it will take some time yet to put it on the map, so the important thing is the audience and the acts loved it and will spread the word."
Indeed, MC Dan Willis pledged to "invest in carrier pigeons, sandwich boards and possibly Morris dancers" to get the word out about the event.
"Then again, we could just put up more posters," he conceded.
An 8-year comedy veteran and regular at the Edinburgh Festival, Willis introduced the acts and abused the audience – a combination of students, comedy buffs, and Mixer regulars – many of whom were surprisingly candid with their responses to his ridicule.
Unless you have an overt sensitivity to poking fun at pandas, the fortnightly Creased Comedy show is a hilarious way to begin your weekend, and a great new addition to the Mixer's event line-up.
The next Creased Comedy night is on 12 November, featuring Seymour Mace (from BBC Three's Ideal) and Simon Donald (co-creator of Viz magazine); followed by Jason Cook, Andy Fury and Steffen Peddie on 26 November.