Review: Halloween at Jesmond orchard
Boys and girls crept out of their warm beds on Sunday 24 October and into the crisp morning air, making their way down to Jesmond Community Orchard for a morning of terror-fic treats.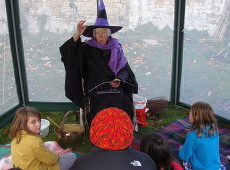 The children braved hanging skeletons and monstrous spiders to carve pumpkins, assemble bird boxes and create scary masks, and dare to face Jesmond's very own wicked witch.
The eerie events began at 1.30pm as organisers Fiona Clarke, Gil O'Connell, Bobbie Harding and Ann Key welcomed guests to the Orchard, which sits within a conservation area in St Andrew's Cemetery, West Jesmond.
Even mums and dads clamoured for the 'best pumpkin' prize, whilst local girls Poppy, 7, and Amelia, 8, gave strict directions for making spiders and haunted faces. Other creepy creations included a solid birdhouse from Robert, 8, and a frightening mask by Nina, 4.
After an hour of creativity it was time for scary stories from the local witch, who came out from behind the Orchard to read to the children.
The Orchard celebrated its first anniversary in June, and the team is keen to attract more visitors. It's a perfect place for children to learn more about nature, Clarke told Jesmond Local. "As the trees grow so will they", she said.
Harding added: "The day was a big success, and we'd like to thank Stewart & Co, Tesco and Sainsbury's for donating the pumpkins."
You can find out more about Jesmond Community Orchard on its website and Facebook page.