Review: Suggestibles at The Mixer
"You'll die laughing," warns a friend, as I make my way to Jesmond's newest entertainment venue on 9th October for a date with improv comedy troupe, the Suggestibles. Fortunately I survive… But only just.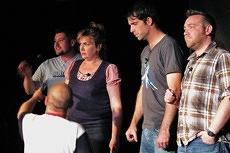 The Mixer
is a venue like no other, in these parts at least. Sitting atop the British Legion on West Jesmond Avenue, its quintessentially northern, vintage social club innards lend themselves perfectly to a bout of thigh-slapping local comedy.
Or thigh-hacking, as the case may be. The Suggestibles have earned a reputation for being very funny. And with routines that are completely improvised, that's an impressive achievement.
The line-up features Bev Fox, Ian McLaughlin, Rob Atkinson, Gary Kitching and Carl Kennedy – who bears an uncanny resemblance to Zachary Quinto, to the delight of wor lass. Sound effects are provided by keyboardist Steve Luck.
The 200-capacity room is brimming with a cross-section of characters, from die-hard Suggestiphiles to first-timers, Legion punters and the obligatory lager-swigging hecklers at the back. The atmosphere is electric and the floorboards wobble with waves of laughter throughout the first few sketches.
Every routine is off the cuff, inspired by suggestions from the audience. Sketches included a chance Tyneside encounter, through the medium of rap, between Jimmy Nail and Mikhail Gorbachev; and my personal favourite, a film noir-cum-Greek tragedy on the Great Wall of China.
An Andrew Lloyd Webber-inspired 'Aspects of the Royal Garden Party' sees off the evening in a fit of hilarity.
The bar prices aren't as cheap as expected, but still competitive for Jesmond. And I somehow find myself preferring to invest my beer money here than fill the coffers of less virtuous establishments nearby.
The night also raises much-needed cash for further improvements at the Mixer. "Every gig we perform pays for a new light fitting or piece of furniture," says Kennedy, who also runs the Cumberland Arms in Byker – the Suggestibles' home venue – with partner Jo Hodson. The troupe's passion for saving the threatened Legion is admirable.
Look out for a monthly set by the Suggestibles, who will be returning to the Mixer on 13th November.
In a place where the only night-time entertainment is often posing in a soulless bar, the Mixer is exactly what Jesmond needs.