So hot right now
Many of us tonight will be excited at the prospect of an evening spent wrapping up warm, enjoying hot food, sampling a drink or two and most importantly "oohing" and "aahing" with sore necks at a traditional British fireworks display.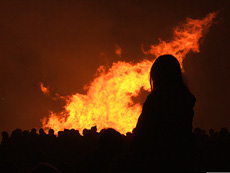 Without aiming to become a complete killjoy, Jesmond Local feels its valuable readers deserve to know the dos and don'ts to stay safe and sound this Guy Fawkes night, courtesy of Newcastle City Council.
Remember to be courteous to neighbours as it is illegal to set off fireworks after 2 am, if you're still awake by then. Additionally, it is an offence to throw fireworks in a street or any other public place, for obvious reasons. Tony Markwell, Newcastle District Manager for the Fire and Rescue Service, explained: "Bonfires and fireworks can injure and even kill you. The misuse of fireworks and bonfires can have devastating consequences and we urge young people to think twice before they put themselves or others at risk by messing around with them".
Residents should feel safe around the bonfire night period as estate walkabouts will be conducted by police and council officers to reduce anti-social behaviour. Abandoned vehicles and wheelie bins left out in back lanes are also being removed so they can't be set alight.
Councillor Anita Lower, Chair of Safe Newcastle, said: "We are encouraging people to go to the organised bonfire and firework displays across the city. These are not only safer but more exciting and often free to attend."
Details of Bonfire Night events across the city can be found on the Newcastle City Council website.
Finally my top tip for the 5th of November is an old chestnut from childhood: always wear gloves when handling sparklers… Enjoy your bonfire celebrations!
Photo credit: Dominic Alves under Creative Commons licence