A scare-free Halloween at JMC
Local children were invited for scare-free fun at Jesmond Methodist Church's Pumpkin Party on 30th October, in the Halloween instalment of its bi-monthly 'Messy Church' craft workshop.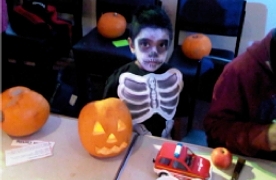 Samantha Payne, student and community development worker at the community-run church; parish minister Rob; and a whole host of friendly-faced volunteers helped to get this fun-filled afternoon off the ground.
Kids were greeted by a Halloween-themed monastery and an array of freakishly fun activities. With a prize for the best fancy dress costume, lots of little pumpkins, skeletons and princesses arrived.
Several children dashed straight to have their faces painted by Emily, whose impressive skills launched a fleet of skeletons, angels and butterflies. Family favourites followed with a spot of apple-bobbing and pumpkin-carving, and other activities such as potato printing, arts, crafts and videos enabled the children to play with their friends and family whilst learning about Christianity. There was also plenty of refreshment and treats to keep everyone going, not to mention a tastebud-tingling pumpkin cake, which definitely left me wanting more.
'Messy Church' is run once every two months, and with Christmas fast approaching, the next event on 4th December brings an opportunity to make some Christmas decorations and fall into that much loved festive cheer.
To find out much more about Jesmond Methodist Church, visit its website.