RGS remembers fallen soldiers
A Jesmond school is keeping with tradition this year by holding a special event to remember those who fought in the war.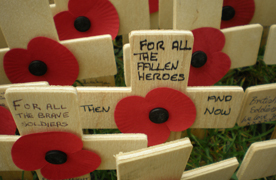 Royal Grammar School will be holding a Remembrance Day assembly this Thursday (11 November) at 8.55am in the main hall, with students talking about a recent school trip and reciting literature.
80 youngsters from year 11 will join Head of History, Simon Tilbrook, for the special assembly. They will be talking about their experiences and knowledge gained from their half-term trip to Battlefields, a World War memorial tour.
In addition, some students will be reading extracts from Shakespearian play, Henry V.
Head teacher Dr. Bernard Trafford is eagerly awaiting the event, and feels it is an important date in the calendar for students to think about the importance of the war.
He said: "Children are too sharp these days just to be sold the idea of dying for your country. It's 2010 and people should question things.
"It will be very challenging, but I think they will do a great job. It will be held in the main hall, where we've got a memorial for former students of this school who were lost in both World War I and II.
"Any school should encourage students to look at the war and ask questions about it".
Parents and children are also invited to attend an open morning at the school on Saturday 13 November.
The event will offer the chance for prospective pupils to look around the school, meet teachers and talk to current students.
Dr. Trafford said: "It's a fantastic opportunity to get to know what RGS is all about. Everyone will be given a guided tour by members of the school.
"I think it's important that current students can give a personal account of their experiences. We don't tell them what to say at all – it is their chance to help new pupils decide if this is the place for them."
Photo credit: Elizabeth M under Creative Commons licence.