Remember remember not to shave this Movember…
It's that time of year again. The time where the Mo (slang for moustache) and November come together for the hairy highlight of the charity calendar: 'Movember'.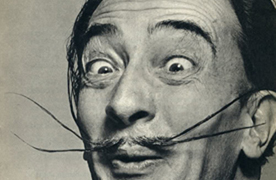 The Movember campaign has one purpose – to raise awareness of prostate cancer, which affects more men than any other type of cancer.
The rules are simple: end October with a clean shave and then cultivate a bristly top lip throughout November. Thanks to Movember, the moustache has become a veritable ribbon for men's health.
Now in its seventh year, Movember began in Australia in 2003 as a humorous ploy to bring back the once extremely popular moustache. The guys behind the concept were so inspired by women's efforts in raising both money and awareness for breast cancer, the 'Mo Bros' took the plunge in creating a global men's health movement.
The funds raised through Movember's UK campaign benefit The Prostate Cancer Charity, the UK's leading charity for prostate cancer. In 2009, global participation of Mo Bros (and Mo Sistas) climbed to 255,755, with over one million donors raising £26 Million for male cancer charities.
With this in mind, I popped into David H Gentlemen's Barber on Acorn Road. To my surprise I entered the shop to find Danny, an employee of David H, sporting a fetching moustache. He informed me that he had decided (along with a number of colleagues form the David H shops in Benton, Gosforth and Morpeth) to take part in Movember and raise money for the cause.
'We've had quite a few guys in the shop, most of them students, asking to have moustaches shaved in for Movember,' he said. 'Most of them ask for the retro porn-star style to be honest!'
Danny himself is working on a handlebar moustache, and he agrees that the Movember campaign is a really great way to raise awareness about prostate cancer. Keep an eye on JesmondLocal to see the fruits of Danny's labour at the end of the month.
If you'd like to get involved with the Movember campaign, it's not too late to start fundraising. So why not embrace the 'tache this November and help to raise even more money for a very important cause, whilst keeping that top lip of yours nice and warm.
For more information on fundraising for Movember, check out the website www.movember.com
Photo credit: Raúl Villalón under Creative Commons licence.