Clayton Road is Jesmond's meanest street
The government's new online crime map of England and Wales, which allows the public to access crime rates for their street or postcode and hold their local police to account, reveals that with seven reported incidents of anti-social behaviour during December 2010, Clayton Road is Jesmond's most crime-affected street.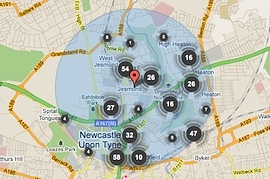 The crime mapping website, which cost the Home Office £300,000 to develop and was launched on Tuesday. So great was the traffic on day one – reportedly it received 18 million hits per hour – that the site crashed.
Want to find out the crime statistics for your street? Just click here see for yourself.