'The Lady in the Van' pulls into Jesmond's RGS theatre
On February 16th, some of the region's business leaders will take to the stage for the first of three performances at the RGS theatre in Jesmond. The cast of this heart-warming comedy includes Antony Josephs from Newcastle-based accountancy firm RMT and Martin Levinson, a partner at Teesside solicitors TBI Law.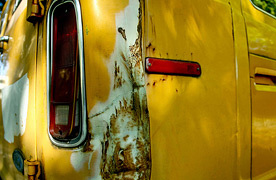 The Newcastle Jewish Players will be donating some of the revenue from ticket sales to the Marie Curie Cancer Care and Yemin Orde, a youth village set-up in the 1950s to take care of holocaust orphans.
Mr Josephs, who plays the role of Alan Bennett, said: "It will be a very enjoyable event combining a nice story, lots of comedy and a beautiful performance from our cast members, who have worked so hard to bring this together."
The Royal Grammar School Theatre, situated next to Jesmond metro will be showing The Lady in the Van at 7.30pm on 16th, 17th & 19th February, with tickets priced between £8 and £9 and £6 for concessions. To book your tickets please call 0191 2569570.
Photo credit with thanks: Paul Joseph, via Creative Commons licence