Jesmond library closed for six weeks
Jesmond Library has closed for six weeks for improvements, including the installation of self-service terminals.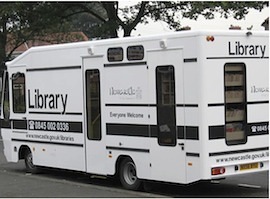 While the library is closed the mobile library will visit the Jesmond Legion Club car park on West Jesmond Avenue every Wednesday from 9am to 11:45am and 1:30pm to 4pm. The first visit will be on Wednesday 16th March. The mobile holds a selection of novels, popular nonfiction, large print and children's books. Items can also be returned to Café 1901. Tickets may also be used at any other Newcastle library.
The closure period also allows extra building work and rewiring to be carried out. Readers can call 0191 2774100 or email information@newcastle.gov.uk to renew items or return items to any library in Newcastle.
"The library's facilities to the Jesmond local community will be greatly improved once the works are carried out," explains Sue Harrison, area service manager at Newcastle City Council. "Funding has been granted from North Jesmond  Ward Committee and the City Council's Access fund to improve access both into and inside the building. Automatic opening doors will replace the  existing heavy and cumbersome manual doors. The community room will be extended and a small kitchen area created for the use of community groups. And an accessable public WC will be installed in the main library area."
Additional works being carried out include a rewire of the building, new lighting and carpeting to replicate architect Harry Faulkner Brown's original vision for the Grade 2 Listed  library. "We aim to take the library back to the future, back to its original 1960s design but with the modern facility of self-issue for the ease and convenience of customers which  is working well in some of our other libraries, Fenham being the most recent," says Harrison. "However, everyone is reassured that staff will still be there to help customers with the new technology and with their enquiries."