Have you got dancing feet?
The theatre company producing this autumn's performances of Broadway musical 42nd Street at the Theatre Royal is inviting would-be stage stars to auditions, rehearsals and a boot camp at Jesmond URC on Burdon Terrace.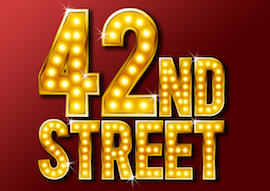 The Newcastle Musical Theatre Company is holding tap classes (£3.50 per class) there every Wednesday night in March during the build up to full rehearsals. Then from April to June there will be a weekly boot camp where performers will work in three groups, moving between dance classes with Victoria McPherson, vocal coaching with Michael Lamb and floor work and theatre-craft with Vivki Richardson.
Lamb, who is the show's musical director, says these classes will fully prepare performers for final rehearsals for 42nd Street between July and October. "We're always looking for new members and anyone is welcome," he says.
Check out the theatre company's website for details.
A Tony Award Winner for Best New Musical when it premiered, 42nd Street tells the story of smalltown girl Peggy Sawyer's meteoric rise from the anonymity of the chorus line to the spotlight of the Broadway star. Numbers include Lullaby Of Broadway, We're In The Money, Keep Young And Beautiful, Go Into Your Dance and title number 42nd Street. The Theatre Royal shows take place from 31st October to 5th November.