Student showcase wows Mixer – video
Newcastle University students treated Jesmond to a medley of music, dance and performance at the Jesmond Community Festival's Student Showcase on Saturday 19 March at the Mixer.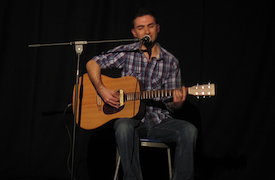 Medics Sophia Pownall and Hassan Ali Beg, of the University's Tango Society, set the stage alight with some raunchy dancing; before singer-songwriter Santiago Laserna, a Californian studying for an MA in Business, melted hearts with an acoustic performance of Leonard Cohen's Hallelujah and his own song, Love and Hate (featured in the video, with thanks). Finally the cast of the University's Circus Society, led by biologist Mark Gibson and his classics-reading deputy Jack Woods, wowed the audience with their juggling and acrobatic skills.
The event was organised by second-year media student, Sarah Hodgson, who also looks after community campaigns for Newcastle University Students' Union. Hodgson told JesmondLocal: "We want to show that students care about the community. We're not all about being drunk and noisy – we have some talent and we'd like to give something back."
Watch this video by Lindsey Crawford and Dan Howarth: