Jesmond gets its first ice-cream parlour
Jesmond locals can get a taste of their first ice-cream parlour from today (26th August), as local company Archer's opens the doors on its Acorn Road franchise in time for the bank holiday weekend.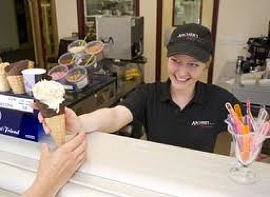 Archer's, based in Walworth just outside Darlington, has been expanding its business over recent years. It will supply fresh milk from pedigree Jersey cows on its Darlington farm to the Jesmond site daily, to be made into Italian style ice-cream using other locally sourced ingredients.
Archer's makes around 40 different flavours of ice-cream, which won them Gold Taste prize at the North East England Tourism Awards in 2009.
The Jesmond parlour, at no 38 Acorn Road, is based on an Italian theme, and in addition to ice-cream will serve sweet treats ranging from knickerbocker glories to homemade cakes. Archer's also grinds its own blend of coffee, served with Jersey milk.
The Jesmond shop will be Archer's fourth outlet, in addition to parlours in Richmond, Northallerton and Fenwick's in Newcastle city centre. For more information visit www.archersjerseyicecream.com/