Romanians test the water in Jesmond
A group of 16 Romanians visited Jesmond Pool this week as part of a study visit to the north east of England.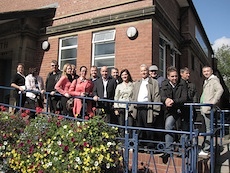 According to Pool secretary Chris Clarke, the focus of the tour was "corporate social responsibility" – the Romanian visitors wanted to hear about the pool's social accounts, and experience of running a public leisure facility as a social enterprise.
The Romanians were shown round the building by Clarke and chief executive Glenn Armstrong who answered questions on a wide range of topics from staff wages to the pool's solar panels.
"The Romanians seemed impressed with the good teamwork evident in Jesmond Pool amongst staff, trustees and volunteers, although their circumstances in Romania must be very different to ours," says Clarke.