Tennis club to host Autumn Graze food market
Jesmond lays on a feast this weekend when it plays host to a new local food market at Northumberland Tennis Club on Sunday.
The Autumn Graze seasonal market will bring together a range of north east producers and suppliers offering a selection of fruit, vegetables, fresh bread, handmade chocolates and more.
With more than 20 stalls and confirmed exhibitors including Carruthers and Kent, Deli Fina, The *TeaShed, and Emily Botham, the food fair is designed to be a regular showcase for regional growers and makers. And visitors are encouraged to come with an empty stomach as there will also be plenty of opportunities to sample, with The Broad Chare Pub  providing snacks and a barbecue stall from Hotel Du Vin.
The market is being organised and run by designer and food blogger Anna Hedworth who says she found a lack of small-scale local markets where she could sell her own home-grown fresh produce and charcuterie.
Hedworth, who has been involved with organizing Newcastle's EAT! Festival, says she is hoping to raise the profile of many of the region's producers and "show people what is available on our own doorstep".
"When I started looking into organising a market, I was overwhelmed by how many interesting growers and suppliers there are in the north east, both new starters, and people who have done it for years," says Hedworth.
"I've had a really good response, people have been enthusiastic and I've had a quick uptake of stalls, as well as managing to get some high profile suppliers on board too," she says. "And persuading people to come hasn't been that hard as everyone loves food!"
Hedworth first became interested in growing produce when she moves near to the Highbury allotments and it soon became her passion.
She will be selling her own fruit and vegetables from the allotment at the market,  as well as overseeing the whole event – and so has enlisted help from her mum and sister.
Should the market be a success this weekend, Hedworth plans to make it bi-annual event. She is also hoping to attract more regular visitors to her blog, and is considering publishing a recipe book in the future.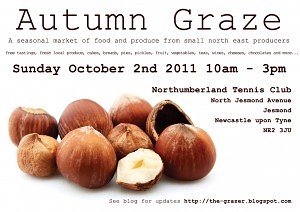 Autumn Graze takes place at Northumberland Tennis Club, Jesmond, on Sunday 2nd October 2011, 10am-3pm.
For more information visit http://the-grazer.blogspot.com/ or email: annahedworth@hotmail.com