Holiday Inn the venue for charity 'ladies day'
Jesmond's newly refurbished Holiday Inn will play host to a charity 'Ladies Day' event in aid of the Evening Chronicle Sunshine Fund tomorrow (Thursday 6th October).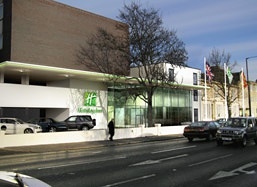 The hotel on Jesmond Road, which recently underwent a £5m transformation, has lined up a wide range of stalls selling designer label shoes, hats and handbags, along with concessions from Aston Martin, YSL cosmetics and local jewellery makers.
Guests will also have the opportunity to watch cooking and cake baking demonstrations as well as flower arranging tutorials from acclaimed industry professionals, and a catwalk display from models showcasing Debenhams clothing.
Organisers are hoping that the fundraising event will follow in the footsteps of its racecourse name-sake, and there are plans to make it an annual event.
Paul Weild, sales & revenue manager, said: "Our emphasis for the entire day is very much on luxury and glamour and we hope that it will become a regular event here at the Holiday Inn Newcastle-Jesmond, much like Ladies Day at the races."
"We are pulling out all the stops to bring the finest food, flowers and fashion to the ladies of the north east," said Weild. "We hope those who attend will help to make this a truly glamorous event by dressing up in their finest dresses and maybe even hats!"
The Sunshine Fund aims to enhance the lives of the local disabled children and their families through the provision of essential equipment, learning aids and custom built apparatus.
The Ladies Day at Holiday Inn Newcastle-Jesmond runs from 10am until 5pm, on Thursday 6th October. Tickets cost £34.95 per person. For more information contact 0191 281 5511 or events@hinewcastle.co.uk