Northumbrian Water finally fixes Osborne Road leak
Northumbrian Water has fixed a leak on Osborne Road, some four months after first being alerted to it.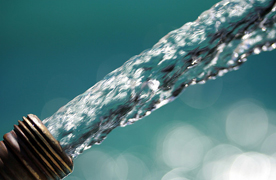 The leak emerged from a wall above the Metro line in Jesmond, where the Labour councillor for South Jesmond, David Hardman, first noticed and reported the damage.
"I reported the water leak in early summer to Envirocall who passed it onto Northumbrian Water," said Cllr Hardman.
The company suspended its investigations after pinpointing a possible source on private land nearby. The process was apparently delayed by their failure to inform other parties of this decision. Eventually, though, they were forced to investigate further, after repair work on the supposed source failed to stop the leak and Cllr Hardman and local residents continued to highlight the problem.
"When I visited the site to meet the Northumbrian Water engineers, one of them pointed out that there were no pipes in the area," Cllr Hardman told JesmondLocal. However, on further inspection, they found the water had travelled through a telephone conduit and traced it back to a leak at the junction of Osborne Road and Clayton Road.
Further complications arose when it emerged that the source of the leak also supplied water to the Nuffield Hospital: "Before (the leak) could be tackled, new valves had to be installed to protect the supply," said a spokesman.
The leak and the pavement above have now been fixed. Northumbrian Water apologised for the length of time it had taken, but added that "the circumstances made this far from straightforward," describing the delay as "uncharacteristic."
This story comes as water regulator Ofwat has released a critical report into the performance of a number of water companies, amongst them Northumbrian Water. In its Summary of Performance for 2011, published on Wednesday 26 October, the regulator named the North East supplier as one of six companies that failed to meet their leakage targets.
Ofwat also criticised the company for unsatisfactory maintenance of underground sewerage infrastructure. If Northumbrian Water fails to improve the situation, it could be forced to return money to customers at the next price review in 2014. You can read the Summary of Performance on the Ofwat website.
Image credit with thanks: Paul Sapiano (under Creative Commons licence)