Cornershop chills out
Local residents in the Sandyford area of Jesmond have welcomed a recently opened shop on the corner of Starbeck Avenue and Helmsley Road which specialises in frozen goods.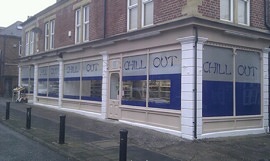 Robert Armstrong, who owns a DVD rental shop opposite Chill Out, told JesmondLocal that it was making a difference to his business. "There's a few more people coming down to the area," he said. "Any shop that opens up and brings people in and improves the area is definitely a good thing."
A local resident, Stewart, told JesmondLocal that he thought Chill Out was better than a rival shop at the opposite end Helmsley Road known simply as "The Corner Shop". "I always go to Chill Out even though I only live three doors down from the other one. There are loads of students around here so it'll get a lot of business. The other one has turned into a post office – there's no room and everything's like a jumble sale."
But not everyone interviewed was so keen. A local student, Ben, said: "I've not been in to be honest. We  go to The Corner Shop because it's nicer and closer. I don't think I'll be shopping in Chill Out."
The new shop also has a small partitioned area which is stocked with fresh fruit and vegetables – a plus for locals disappointed when a previous grocery store, that used to be opposite the Chill Out site, shut down.