Fruitful funding for Jesmond Community Orchard
Brand new apple, pear and apricot trees will soon bear fruit in Jesmond Community Orchard, thanks to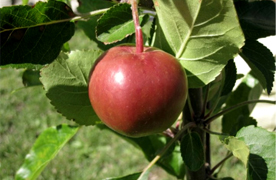 generous support from donors.
The Orchard—situated in the North West corner of St. Andrews cemetery—is mainly self-sufficient, but fundraising efforts have led to vast improvements. This coming autumn will make use of the newly refurbished wall, with metal supports and wire training new trees to grow along its surface. Such developments were made possible with funding from members, ward committees and the Community Foundation's Local Environmental Action Fund (LEAF).
Local schools, including West Jesmond Primary School and Northern Counties College, have also played a big part in the transformation of the Orchard—which aims to provide educational value as well as community enjoyment. As part of West Jesmond Primary School's recent 'Eco Week', schoolchildren helped to build a bug bivy (used to shelter from creepy crawlies), identified different fruit trees and took part in insect-related activities.
The leafy new arrivals include apple, pear and merryweather damson, which complement its existing plum, quince and almond tress. The Orchard's most unusual resident is, perhaps, the 'Jesmond Dingle'—an extremely rare type of apple tree which was grown from seed by local allotment owner, Margaret Joffin. The Jesmond Dingle's fruit was recently named as a new variety of apple by the Royal Horticultural Society, and a nursery is now looking into its commercial viability.
Treasurer of Jesmond Community Orchard, Fiona Clarke, is thrilled with the Orchard's progress and the help it has received in such a short space of time. She told JesmondLocal: "A lot of the work is done ourselves and it is nice to see the local schools and the community getting involved, as I think this will turn out to be not only a great public space for people to enjoy but also of great importance in educating people about orchards and why they are still important."
Orchards throughout the country are disappearing as they are being cut down and put to other agricultural use, however the volunteer team in Jesmond wants to show that a wide variety of fruit trees can still be grown in the UK, and especially the North East. When the Orchard was founded three years ago, it was in a derelict condition full of rubble and old concrete, but it is now a source of pride in the Jesmond community.
JesmondLocal readers can support Jesmond Community Orchard by becoming a custodian member (£5 annual fee) or making a donation to the project. More information is available on