Jesmond Pool plans extension
Jesmond Pool, on St. George's Terrace, is planning a building extension in order to improve its existing health and recreation facilities.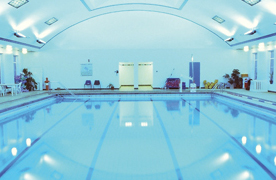 Since it was taken over by members of the community almost 20 years ago, Jesmond Pool has offered a swimming area, gym and fitness classes to the public. With the new extension plans, the pool hopes to create more space for extra gym equipment and a massage therapy area.
Pool trustee and company secretary, Chris Clarke, told JesmondLocal: "If we get more space, there will be more of a chance to have fitness programs. Some customers would like some instruction on what to do in the gym and this will give us the ability to do that."
The extension would involve removing the flower bed that runs along the St. George's Terrace side of the building in order to add the additional gym area. Planning permission has now been submitted and the trustees seem confident that the proposal will be given the green light—with work set to be finished sometime next year in time for the 2012 Olympics.
The Pool hopes that Newcastle City Council will make a decision in the next few weeks, before it can begin raising additional funds to help pay for the renovations.
When asked how the locals felt about the proposal, Clarke said: "The pool has always had a huge amount of support from Jesmond locals. Residents were all happy and gym goers enthusiastic about getting more space."
Jesmond Community Pool runs a number of health and fitness programmes. Additional information is available on its website.
Image credit with thanks: Jesmond Community Leisure.