Jesmond gets its first radio show
Jesmond's first community radio show was recorded this week at Newcastle Cricket Club on Osborne Avenue.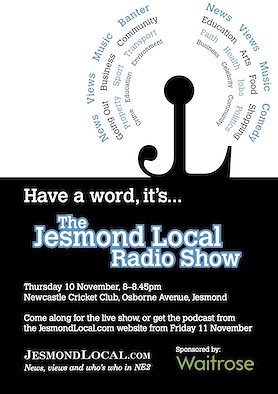 A healthy (and noisy) crowd came along on Thursday (10th November) evening to enjoy half an hour of music, entertainment, discussion and banter – all brought to you by JesmondLocal, and sponsored by the kind people at Waitrose (thanks!).
The show included interviews with iCan's Austen Hempstead and the cricket club's Olwyn Hocking plus performances from The Line and Tall Tales and Short Stories. News updates were provided by Dan Howarth. This first show was presented by Sophie Bauckham and Ian Wylie, with Kat Stevenson and Louis McGovern taking care of sound.
The plan is to record the JesmondLocal radio show each month in a different community venue. If you'd like to be involved as a host, sponsor or interviewee we'd love to hear from you. Please send us an email.
To listen to the show, click below:
Want to hear more JesmondLocal podcasts? Subscribe (for free) at our iTunes podcast page.