A taste of Lebanon for Jesmond wine lovers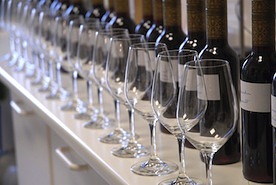 Wine lovers in Jesmond will get to taste the fruits of one of the world's oldest wine-producing nations at Jesmond Dene House on 16 November.
Local sommelier Alistair Stewart, of Jesmond wine merchant Richard Granger Fine Wines, will host the evening alongside Sami Ghosn of Lebanese wine producer Massaya & Co.
Lebanon's wine industry dates back more than 5,000 years, and has flourished since the late 1990s, in spite of the country's troubled past. The Massaya winery itself is a short drive from Baalbeck in the heart of the Bekaa Valley, where the Romans built the Temple of Bacchus; their god of wine.
With wine-tasting venues in both Lebanon and France, this is Massaya's first public wine-tasting in Newcastle. Guests will get the chance to sample the full range of Massaya wines, whilst also receiving talks from both Stewart and Ghosn.
Jesmond Dene House's Marketing Manager, Nicky Sherman, told JesmondLocal that the wine dinners attract both wine connoisseurs and those who simply want to learn more about wine.
In addition to the Lebanese wines, guests will also have the chance to learn about and sample a selection of wines from Vignobles Brunier, a French winery from the Châteauneuf-du-Pape region of the Southern Rhone.
The tasting will be followed by a five-course dinner and a talk on the history of the wines. An additional selection of wines will be served during the dinner to complement the courses. Ghosn and his colleagues will also be present throughout the dinner to answer guests' questions.
For those JesmondLocal readers unable to attend, Stewart shares a swig of advice. The secret to selecting wines is simple: know what you like and what you don't. Once you are familiar with your own tastes, you will avoid most pitfalls.
The evening will begin at 7:00pm with a meet and greet in the reception area, followed by wine tasting and dinner in the Great Hall. To make a booking, call 0191 212 3000 or email info@jesmonddenehouse.co.uk
For additional information please visit the Jesmond Dene House website.
Image credit: Massaya & Co.