Exhibition Park launches Lakeside Explorer
Local people gathered at the Exhibition Park at the end of last month to celebrate the launch of the Lakeside Explorer (LSE) community project.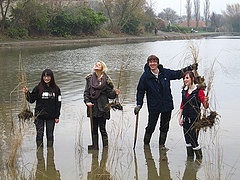 Nigel Todd, councillor of Wingrove, cut the ribbon leading to the walkway around the new wetland habitat. He was assisted by students of West Jesmond Primary School, Royal Grammar School and Newcastle Preparatory School. Visitors watched as volunteers of the Student Community Actions Newcastle (SCAN) placed several reeds in the wetland. The plants are expected to fully spread by next year. Staff from the Exhibition and Brandling Park Community Trust (EBPCT) led a walking tour around the lake to inform visitors about the new project.
The launch concluded at the park's café, where LSE members were applauded in recognition of their efforts to initiate the project. Children had the opportunity to engage in arts and craft, while everyone received a slice of home-made Swan Lake cake.
The LSE was initiated by EBPCT member Barbara Hogg. Hogg was inspired by memories of her children's fascination with the wildlife in the lake many years ago. At the time, the water of the lake was enriched with coots, moorhen, ducks and swans. Over time, pollution has led to the deterioration of the water's quality and the disappearance of the lake's fauna, with the exception of birds, says Pippa Lewis, also a member of the EBPCT.
Hogg presented her idea of launching a new lakeside project to Keith Pimm, chairman of the Trust, who supported the proposal. Pimm made grant applications and engaged with the community space to receive grants and funds. Finally, Pimm presented the project to Mitch Brown, chairman of the EBPCT. "I really liked their idea. It is great chance to regenerate the park and make it more attractive to visitors," says Brown.
Lewis explains that when the newly placed reed is bigger it will work as a filter to refine the water. She hopes the clean water will attract wildlife. The first improvement will most likely be seen next summer. The LSE looks forward to providing people with information about the Exhibition Park's natural environment.
Aside from LSE, a new skate park and playground are also being built to attract children to the park.