Old-fashioned sweet shop opens on Clayton Road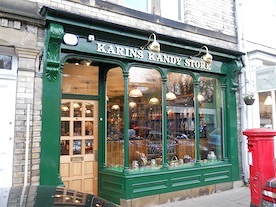 Liquorice, pear drops, and bonbons galore – Jesmond now has its own old-fashioned sweet shop, Karin's Kandy Store.
Owner Karin Weir, who runs the store with her son, welcomed a steady flow of customers on the store's opening day last weekend. Weir, who has been retired for 12 years, says she has always had an ambition to own a sweet shop, and now her dream has become a reality. Weir was brought up across the street from her store, and is therefore familiar with the Jesmond community.
With most other shops offering only pick and mix, Weir may have found a gap in the Jesmond food market. Karin's Kandy Store is dedicated to selling old-fashioned sweets, which includes an extensive selection of toffees, fruit jellies, lollies, fizz balls, and mints. With around 180 different sweets on offer, Weir says the store has attracted a good mixture of people.

A couple months down the line, Weir also hopes to extend a helping hand to nursing homes by delivering baskets of sweets to those who are unable to go to the shop.
It's the latest stage in the regeneration of Clayton Road, which is now home to a variety of businesses. Weir told JesmondLocal that she hopes the sweet shop will attract more people to the street.
If all goes according to plan, Karin's Kandy Store will be open from 8:00 am to 6:00 pm Monday to Friday, and 9:00 am to either 5:00 or 6:00 pm on Saturdays.
For contact information, visit Karin's Kandy Store's Facebook page.