Mugging and theft in Jesmond
A 23-year-old woman who had her handbag stolen in a robbery on Sunday (4th December) is one of a series of crimes reported in Jesmond in the last couple of weeks.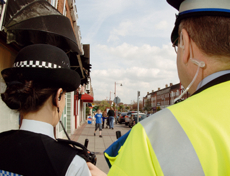 The mugging took place at 1.30am along Matthew Bank, towards Jesmond Dene Road, near the site of the old La Sagesse School.
The woman was approached from behind by a man in a grey hooded top who snatched her handbag from her shoulder and made off. The handbag and its items were discarded by the offender and recovered by the victim.
The 23-year-old was not seriously hurt during the incident, but Northumbria police urge the community to be vigilant during the early hours, especially those walking alone.
Any witnesses or anyone with information is asked to contact police on – 03456 043 043 ext 69191, or to contact Crimestoppers anonymously on 0800 555 111.
Police are also appealing for witnesses after various items were stolen from a car on Shortridge Terrace, Jesmond.
It happened between 1am and 8.30am on Monday 28th November, where a coat was stolen from a car, which also contained an iPod.
The distinctive black waxed Barbour jacket with a Union Jack lining and logo had been left on the rear seat of the car and was stolen when the rear window was smashed. The jacket also had an MP3 player in its pocket. The items stolen are worth hundreds of pounds.
Police say motorists should ensure they do not leave anything on display in their cars and to ensure anything valuable is either taken with them or stored away out of signed.
Again, any witnesses or anyone with information is asked to contact police on – 03456 043 043 ext 69191or ring Crimestoppers anonymously on – 0800 555 111.
Meanwhile police in the east of Newcastle, including Jesmond, have arrested 40 people since initiating a campaign to prevent burglaries in early September. The operation codenamed "Tailback" was launched after a spate of burglary offences across the Jesmond, Heaton, Byker and Walker areas in the east of the city during the autumn months.
A team of officers have been targeting offenders and the team has now arrested 36 people resulting detections for 18 burglaries in the area, as well as 20 associated theft/handling offences of stolen goods.
The campaign has also included efforts from police to provide pro-active crime prevention information to local residents, as around 40% of burglaries happen at homes where doors and windows have been left unlocked or unsecured.
Community Support Officers have been offering advice to victims of crime and their neighbours, while over 750 crime prevention leaflets have been distributed to the local community.
Chief Inspector Steve Barron said: "It's devastating for people to have their homes burgled and it's something that impacts not only on individuals but their families and the wider community."
"We'll not put up with people who make other people's lives a misery and have a complete disregard for other people's property and this operation is aimed at targeting those responsible and bringing them to justice."
"The action shows we're determined to tackle the people who commit such crime in this area and we'll continue to use every tool at our disposal to identify those responsible and ensure action is taken."
The initiative appears to be working, with a number of people being charged for their offences in the year in 2011:
A 44-year-old man was charged with burglary after an offence that took place on Clayton Road, Jesmond.
A 44-year-old man was charged with blackmail, burglary and theft of a bike after a burglary which took place on Buston Terrace, Jesmond in September.
A Bang and Olufsen TV was recovered following pro-active work by the team. It had been stolen in a burglary in Jesmond in February.
As a result of enquiries, a 25-year-old man was arrested on suspicion of handling stolen goods after a laptop was stolen from Akenside Terrace, Jesmond. Following this arrest further enquiries led to a 41-year-old man being arrested, also for stolen goods.
Part of operation "Tailback" includes burglars who are convicted in court to be named and shamed publically, to allow the community to know who they are and what they have done.
Many of the burglaries which have taken place in the Jesmond area have been opportunist events, caused by doors not being secured in properties. Chief Inspector Steve Barron advises: "Many of these burglaries are opportunist so it's important that people take notice of security advice. This includes ensuring doors and windows are closed and locked at all times, particularly overnight or when in another part of the house."
"We often hear of people walking in through the door and stealing a set of car keys or a laptop which have been left in the hallway. With this in mind, valuables should never be left in reach or view of windows and doors, with car keys in particular locked away out of sight."
One victim of burglary in the area is student Priti Rao, who on Tuesday 27th September, had her Apple Mac laptop stolen from a flat she shares with friends.
She says: "Someone had entered our flat at night while we were asleep and stole the laptop. It all felt a bit surreal. It slowly started to sink in..the Mac was gone."
"My beloved writing companion, which had travelled with me all over the world, and contained in it thousands of pictures, memories and some of my deepest thoughts. Fortunately all of this along with my PhD thesis was saved on my desktop."
Rao called police to report the burglary and the officers launched an investigation into the incident. Only days later, Rao received notification of an appointment with Apple at the Eldon Square shop, which she had never made.
Priti notified the police, who then attended the "scheduled" appointment and subsequently made an arrest of suspicion of handling stolen goods. Following enquiries, a second person was also arrested. They have both been bailed while the investigation continues. The laptop was returned to Rao and fixed by the Apple store.
If you have been a victim of burglary or notice any abnormal behaviour in your area, call the police non-emergency number – 03456 043 043.